Featured Welding Products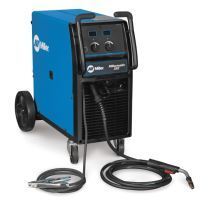 Millermatic 252 208/230 Volt Wire Welder Part#907321 FREE SHIPPING!
$2,864.00
$2,195.00
View Product
My Shopping Cart Miller Coolband Welding Helmet Headgear With Integrated COOLING FAN! Part#261970 FREE SHIPPING!
$150.00
$115.00
*This item automatically qualifies your order for free shipping!
Product Features
Miller Coolband Welding Helmet Headgear #261970
So you already have a Miller Autodarkening Helmet, would't it be nice if there was a little air flowing inside of it??? Coolband is the answer!
Miller Coolband Welding Helmet Headgear is an excellent airflow solution for your Miller Auto Darkening Welding Helmet. The system goes right under your welding mask, moving the air around to provide a much-appreciated cooling effect. Miller Coolband Welding Helmet Headgear should not be confused with respiratory headgear; always weld in the safest possible environments.
Cools the air under your Miller welding hood up to 8 degrees Fahrenheit.
Minimizes glasses fogging using well placed air vents
Eliminates stagnant air using consistent air movement
Provides long lasting comfort with a lightweight, easy-fitting design
Adjusts airflow direction using removable airflow deflector
Includes long lasting rechargeable lithium battery
Slim design fits under most Miller Autodarkening Welding Helmets including *MP-10, Pro-Hobby, Performance, Elite, Digital Elite, & Titanium Series
Welders Supply is offers the best online pricing for Miller Welding equipment, including Miller Autodarkening Welding Helmets.