Featured Welding Products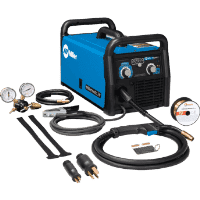 Millermatic 211 Auto-Set 110/220 Volt Mig Welder Part#907614 (Formerly #907422) +Build with Blue Rebate
$1,452.00
$1,065.00
View Product

Your Cart Is Empty Hobart Handler 125 Wire Feed Welder Part# 500495
Dimensions
| | |
| --- | --- |
| Height: | 16.7 Inches |
| Width: | 9.7 Inches |
| Length: | 12.1 Inches |
| Weight: | 50 Lb(s) 0 Oz |
Product Features
Hobart's Handler 125 MIG Welder #500495
Look no further, you've found an excellent deal on Hobart's Handler 125 Wire Feed Welder.
The Hobart Handler 125 MIG Welder is a great entry level welder for the beginner. It operates off your standard 115-volt household current. Comes ready to weld using self-shielded flux cored wire without requiring any shielding gas. It can use .030-.035 (0.8-0.9 mm) flux cored wire right out of the box. This Hobart MIG welder comes equipped with a built-in gas valve. Use C-25 gas (75% argon/25% CO2) on 24 gauge - 1/8 inch steel for a cleaner weld with less spatter. All you need is a regulator and you are ready to go. If you want to do stainless steel wire for 16-12 gauge stainless steel welding, use Tri-Mix gas.
Hobart's Handler 125 MIG Welder Specs
Welds 24 gauge up to 3/16 inch steel with flux cored wire
Proven built-in wire feeder with quick-release drive roll tension lever
Built-in contactor eases use and is an excellent safety feature which makes wire electrically "cold" when not welding.
Four output voltage settings with wire feed speed tracking provide quick and easy adjustment for different materials and thickness.
Dual groove drive rolls make it easy to switch between .023/.025 in. (0.6mm) and .030 - .035 in. (0.6 - 0.9 mm) wire
Self-resetting thermal overload and motor protection
Hobart's Handler 125 MIG Welder Comes complete with:
Comfortable 8 ft. (2.4 m) H-9B gun with liner for .023-.035 in (0.6-0.9 mm) wire
.030 in. (0.9 mm) contact tips
10 ft. (3 m) work cable with clamp
Sample spool of .030 in. (0.9 mm) self-shielded flux cored wire
Spool shaft to accommodate 4 in spools (Optional hub kit available for 8 in spools)
Power cord with plug
Hobart's Handler 125 MIG Welder Power:
Hobart's Handler 125 MIG Welder Processes:
MIG (GMAW)
Flux Cored (FCAW)
To view literature of this machine:
Hobart Handler 125 Spec Sheet (ENG)
View our large selection of Mig, Tig, and Stick welders with the greatest values online.