Featured Welding Products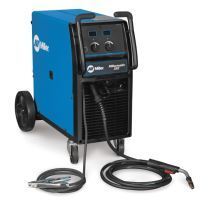 Millermatic 252 208/230 Volt Wire Welder Part#907321 FREE SHIPPING!
$2,864.00
$2,195.00
View Product
My Shopping Cart Trailblazer 325 part#907510001
Product Number:
907510001
Product Features
Trailblazer 325 #907510001
Miller's Trailblazer can't be beat!
Designed for the professional welder, our Trailblazer® welder/generators deliver unbeatable arc performance, the smoothest, most stable arc in the industry and an independent welder and generator power system.
MIG (GMAW)
DC TIG (DC GTAW)
Pulsed TIG (GTAW-P) DC
Stick (SMAW)
Flux Cored (FCAW)
Air Plasma Cutting and Gouging (PAC) with Optional Spectrum Models
Air Carbon Arc Cutting and Gouging (CAC-A)
Input Power

Rated Output

CC/DC 325 Amps at 28 Volts, 100% Duty Cycle, CV/DC 325 Amps at 28 Volts, 100% Duty Cycle

Welding Amperage Range

DC Stick 30–325 A

MIG/Flux-Cored 10–35 V

DC TIG 10–325 A

Pulsed TIG (peak) 10–325 A
Net Weight

Trailblazer 325: 460 lb

Generator Power 104DegF

Peak: 12,000 watts

Continuous: 10,500 watts

Excel Power™ (optional): 120 V, 20 Amps, 60 Hz, 2400 watts pure generator power at idle speed and while welding.

Engine

Kohler, 25 HP twin-cylinder, four-cycle overhead valve, industrial air-cooled, gasoline (carburetor or EFI) or LP (275 models only)

Dimensions

20" Wide x 28" High x 40.5 inches long
Applications:
Construction
Fabrication
Farm and Ranch
Field Maintenance and Repair
In-Plant Maintenance and Repair
Mechanical Contracting
Pipe Fabrication
Rental
Schools/Training
Stainless Steel Welding
Welding Projects
To view literature of this product:
Truck Installation Drawing [PDF]
View our large selection of Mig, Tig, and Stick welders with the greatest values online.