Shop Plasma Cutters Accessories Below for BEST Pricing Online
Our more popular plasma cutting accessories include:
Plasma Cutter Accessories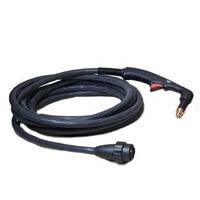 If you do any plasma cutting, it's inevitable you'll need to pick up a few accessories. Well, you've come to the right place. Welders Supply not only has an extensive inventory of plasma cutter parts and accessories from Miller, Hypertherm, Victor Technologies and Hobart, we have them at unbeatably low prices. If you don't see the plasma cutter accessory you need in these pages, get in touch with us and we'll see about getting it for you.
Welders Supply Carries These Popular Plasma Cutting Accessories
Consumables for Plasma Cutters: Let's start with the one thing everyone with a plasma cutter can never have enough of: consumables. If you use your cutter on a regular basis, you're probably running out of consumables every time you turn around. We carry consumables for Miller, Hypertherm, Victor Technologies and Hobart plasma cutters. Stock up now and avoid ruining your torch by working with worn down consumables.
Plasma Cutter and Cable Covers: Whether you work in a shop or out in the field, a cover is a great way to protect your investment from the dust and debris that inevitably finds its way onto (and into) your plasma cutter. Besides providing good protection against scuffs and scrapes, most have a built-in pocket for storing your torch and cable. For outdoor work, or working anywhere with dirty or rough floors, cable covers are a great way to protect your torch cables from damage.
Replacement Hand Held Torches: Has your old torch gone missing in the line of duty? Maybe you found out the hard way that using worn down consumables can cause premature torch failure? Or maybe it was just time for your torch to go to the great welding shop in the sky. Whatever it was that brought you here, Welders Supply has Hypertherm, Miller, Hobart and Victor Technologies hand held torches, as well as torches for machine cutting. All at the lowest prices you'll find anywhere.
Cutting Guides: No matter how steady your hand, cutting a perfect circle is next to impossible. When the job calls for precision, a cutting guide is your best friend. We stock everything from basic cutting guide kits to precision cutting guide tools. Roller guides, too.
Air Filters: A good plasma cutter air filter not only improves the quality of your cuts, it extends the service life of your plasma cutter by filtering out humidity and impurities in the air. Just like consumables, you know you're going to need a replacement. Order a couple extras and be prepared.
Free Shipping on All Orders Over $300
As with everything we sell, Welders Supply offers free shipping within the continental US on all orders for parts and accessories totaling over $300. If your order comes up short of $300, consider adding a few things you know you're going to need down the road so you take advantage of our free shipping offer.
Shop here at The Welders Supply Company for the BEST pricing on plasma cutting machines anywhere.