Share

Print
$2,483.00
$3,400.00
Reduced Price
You Save
$917.00
Add item to cart for

People who bought this product were also interested in:
HYP PMX65 CSA HAND SYSTEM 200-600V/7 DEMO UNIT - FULL WARRANTY - LIKE NEW
Hypertherm Powermax 65 25ft Hand Torch Part #083270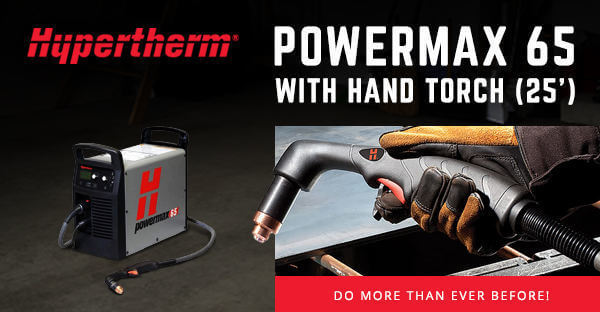 Hypertherm Powermax 65 hand torches from Welders Supply provide safer plasma cutting. The optional 15° and standard 75° Duramax hand torches are built with heat resistant torch handles to reduce downtime for plasma cutting. A Conical Flow nozzle increases cut quality and decreases dross building. The dross shield enables easy drag cutting while reducing cleanup time.

A Powerful CNC Machine Essential
The Hypertherm Powermax 65 has many advantages over other torches. And we sell it a better price than you'll find on eBay or Craigslist. The mechanized hand torch control panel features an LCD screen for easier operation. Boost Conditioner circuits improve performance for motor generators, low line voltage and fluctuating input power.
Offering the latest technological innovations, like Smart Sense™ technology to automatically adjust the gas pressure, the Powermax 65 helps you do more than ever before. Four Duramax™ torch styles provide greater versatility and enable operators to select the right tool for the job. Check out our great accessories for the Hypertherm Plasma Cutter 65 including a cover, retaining cap, shield deflector and parts kit.
Recommended Cut Capacity 3/4"
Key power supply advantages of Hypertherm Powermax 65
Smart Sense™ technology automatically adjusts the gas pressure according to cutting mode and torch lead length for optimal performance.
Boost Conditioner™ circuit (on CSA models) improves performance on low-line voltage, motor generators, and fluctuating input power.
FastConnect™ torches, optional CNC interface, and four work lead styles increase versatility for handheld and mechanized use.
Simplified control panel with LCD screen for easy operation.
Key torch advantages of Hypertherm Powermax 65
Optional 15° and 75° Duramax™ series hand torches enable operators to easily select the right tool for the job. The handle is more heat resistant and performs at least five times longer in high impact tests than previous torches.
Standard and short-barreled Duramax series machine torches are available, allowing a wide variety of mechanized applications with X-Y tables, track systems, pipe and robotic cutting systems.
Conical Flow™ nozzle increases arc energy density for superior cut quality with little dross.
Patent-pending shield reduces dross buildup and enables smoother drag cutting for a better cut.
Shop other Plasma Cutters or Hypertherm welding products online from the experts at Welders Supply.
HYP PMX65 CSA HAND SYSTEM DEMO UNIT - FULL WARRANTY - LIKE NEW #083270U Specs

Input voltages

CSA

200 - 480 V, 1-PH, 50/60 Hz
200 - 600 V, 3-PH, 50/60 Hz

CE

380 - 400 V, 3 PH, 50/60 Hz

Input Current @ 9 kW

CSA

200/208/240/480 V, 1-PH, 52/50/44/22 A
200/208/240/600 V, 3-PH, 32/31/27/13/13 A

CE

380/400 V, 3-PH, 15.5/15 A

Output current
Rated output voltage
Duty cycle @ 40°C (104°F)

CSA

50% @ 65 A, 230 - 600 V, 1/3 PH
40% @ 65 A, 200 - 208 V, 1/3 PH
100% @ 46 A, 230 - 600 V, 1/3 PH

CE

50% @ 65 A, 380/400 V, 3-PH
100% @ 46 A, 380/400 V, 3-PH

Open circuit voltage (OCV)
Dimensions with handles

500 mm (19.7") D; 234 mm (9.2") W; 455 mm (17.9") H

Weight with 7.6 m (25') torch
Gas Supply

Clean, dry, oil-free air or nitrogen

Recommended gas inlet flow rate / pressure

Cutting: 189 l/min (400 scfh; 6.7 scfm) @ 85 psi (5.9 bar)
Gouging: 450 scfh; 212 l/min (7.5 scfm) @ 70 psi (4.8 bar)

Input power cable length
Power supply type
Hypertherm Powermax 65 Error Codes and Troubleshooting
Additional Powertherm 65 errors and fault codes
SHIPPING DIMENSIONS

Height:
14.00 Inches
Width:
14.00 Inches
Length:
14.00 Inches
Weight:
65 Lb(s) 0 Oz
Hypertherm Powermax 65 PDFs
Hypertherm Powermax 65 Plasma Cutter