Miller NEW! BIG BLUE 350 PIPE PRO Engine Driven Multi Process Welder
Miller NEW! BIG BLUE 350 PIPE PRO Engine Driven Multi Process Welder
$13,769.00
Save $3,638.00
(Reg. $17,407.00)
SHIPPING DIMENSIONS
Height:

34.00 Inches
Width:

28.00 Inches
Length:

58.00 Inches
Weight:

1068 Lb(s) 0 Oz
Miller Big Blue 350 PIPE PRO
Adding this item to your cart will qualify your order for US domestic


In Stock

Share

Print

ADD TO CART
People who bought this product were also interested in:
Miller BIG BLUE 350 PIPE PRO Engine Driven Multi Process Welder #907428
The workbench-touch Miller BIG BLUE 350 PRO Engine Drive Multi Process Welder is specially designed for the transmission pipeline contractor. Infinite Arc Control allow you to change the arc for your FCAW, MIG, and Stick applications. An improvement in arc performance in Stick and Self-shield Wire eliminate Stick arc flaring issues and enhanced MIG/FCAW control.
The Miller BIG BLUE 350 PIPE PRO is compatible with the Wireless Remote Hand Control. Using this eliminates cord failure repair costs and eliminates the need for extension cords.
The Miller BIG BLUE 350 PIPE PRO has convenient maintenance control displays. The engine coolant temperature gauge will stop the engine if the temperature exceeds 230 degrees Fahrenheit. If the airflow is blocked or the duty cycle is exceeded, the thermal overload protection prevents damage to your machine and provides safer operation for the user.
The Miller BIG BLUE 350 PIPE PRO comes with an optional Stainless Steel Appearance Package. This protective covering will protect against your machine against corrosive environments.
The Miller BIG BLUE 350 PIPE PRO much quieter at 40% less noise. This makes it an ideal choice for comprehensive pipeline welders. With less noise you will be able to communicate easier to others on the jobsite making it safer and more enjoyable working environment.
Miller BIG BLUE 350 PIPE PRO Engine Driven Multi Process Welder Processes:
MIG (GMAW)
Stick (SMAW)
Flux Cored (FCAW)
DC TIG (DC GTAW)
Air Carbon Arc (CAC-A) Cutting and Gouging (Rated 1/4 in (6.4 mm) cabons. Air plasma cutting and gouging with optional Spectrum models)
Miller BIG BLUE 350 PIPE PRO Engine Driven Multi Process Welder Industrial Applications:
Structural Steel
Maintenance and Repair
Construction
Pipe Welding
Miller BIG BLUE 350 PIPE PRO Engine Driven Multi Process Welder Specifications:

Power Source Output Range
DC Stick 20-400 A; DC TIG 20-400 A; FCAW/MIG 14-40 V
Generator Rated Output at 104DegF
12,000 Watts Peak, 10,000 Watts Continuous
Net Weight (without fuel)
1018 lb (462 kg)
Miller NEW! BIG BLUE 350 PIPE PRO Engine Driven Multi Process Welder

Miller NEW! BIG BLUE 350 PIPE PRO Engine Driven Multi Process Welder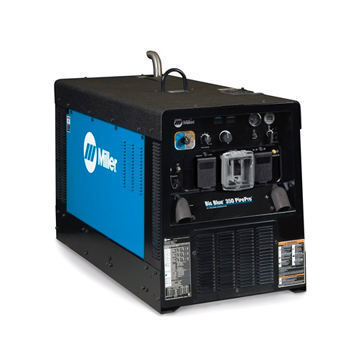 Adding this item to your cart will qualify your order for US domestic


In Stock

ADD TO CART

Share

Print