Featured Welding Products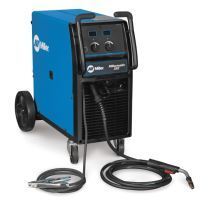 Millermatic 252 208/230 Volt Wire Welder Part#907321 FREE SHIPPING!
$2,864.00
$2,195.00
View Product
My Shopping Cart Millermatic 212 Auto-Set 220 Volt Wire Welder Part#907405 FREE SHIPPING!
Product Features
Millermatic 212 Auto-Set Wire Welder #907405
FREE SHIPPING to the lower 48 states! (some restrictions may apply)
HUGE OVERSTOCK SALE!! BUY NOW WHILE THE PRICES ARE LOW!
The Millermatic 212 Auto-Set 220 Volt Wire Welder is an amazing welding machine! With the new Auto-Set technology, this welder automatically sets itself to the correct parameters for you to start welding, so no more guesswork! The Millermatic 212 Auto-Set is Miller's mid-level 220 volt wire welder. It is rated at 150 amps, with 60% duty cycle. This welding machine comes with a 3 year warranty, and plenty of power! The Millermatic 212 Auto-Set 220 Volt Wire Welder is perfect for auto body or high output sheet metal shops. Weld with confidence with the great MIG welder.
EZ-Change Low Cylinder Rack – Users can easily roll cylinders on and off the rack without lifting. This saves potential workman's comp claims, or your back!
Compatible with Spoolmate 200 Series Spool Gun – consistent feed with the power to burn in the weld.
Line Voltage Compensation – Welding output is kept constant even when power input varies by +/- 10%
Fan-On-Demand Cooling System – reduces maintenance and operating costs by only operating when needed. This reduces power consumption and contaminants drawn into the machine.
15 ft. MIG Gun – Better reach.
General Specifications

Input Power

208/230 V, 1-Phase, 60 Hz

Rated Output

160 Amps at 24.5 VDC, 60% duty cycle

Welding Amperage Range

30 - 210 Amps

Wire Speed

50 - 700 IPM (1.3 - 17.8 m/min)

Net Weight

178 lb (81 kg)

WireDiameter Capacity

.023 - .035 in (0.6 - 0.9 mm) Solid Steel

.023 - .035 in (0.6 - 0.9 mm) Stainless

.030 - .045 in (0.9 - 1.2 mm) Flux Cored

MaxSpoolSize Capacity

12 in (305 mm)
Applications
Aluminum Welding
Fabrication
Farm and Ranch
Field Maintenance and Repair
Home/Hobby
In-Plant Maintenance and Repair
Metal Art/Sculpture
Motorsports (car, truck, bike, etc.)
Schools/Training
Welding Projects
To view literature of this machine:
Welders Supply Company offers this great welder at the best price on the web!
View our huge selection of Mig, Tig, and Stick welders for sale online.