Featured Welding Products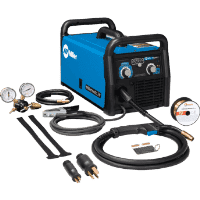 Millermatic 211 Auto-Set 110/220 Volt Mig Welder Part#907614 (Formerly #907422) +Build with Blue Rebate
$1,452.00
$1,065.00
View Product

Your Cart Is Empty Welding Equipment and Supplies Online
Welding Supplies, Welding Equipment, Welding Machines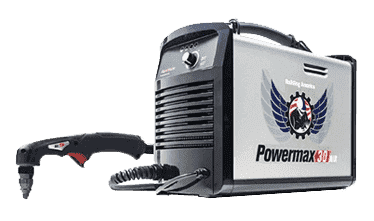 Introducting the new Hypertherm Powermax30 AIR
The Hypertherm Powermax 30 AIR shipment has arrived! The best plasma cutter on the market with a built in AIR COMPRESSOR! We have a Huge inventory and we can ship out SAME DAY with orders before 3PM Central. We have it on sale at the best PRICE and WE HAVE EM IN STOCK!
Hypertherm Powermax 45 on SALE

Don't settle for a used product on Ebay or Craiglist. Welders Supply now offers the best sale on Hypertherm Powermax 45 plasma cutters on the web. Review the specs, compare vs. the PMX65 and other models, read the manual, price shop for accessories and parts – do what you gotta do! We know you'll wind up back here. Welders Supply is your choice for all Hypertherm Powermax plasma cutters, torches and accessories.
FREE SHIPPING to lower 48 states on orders of $300 or more.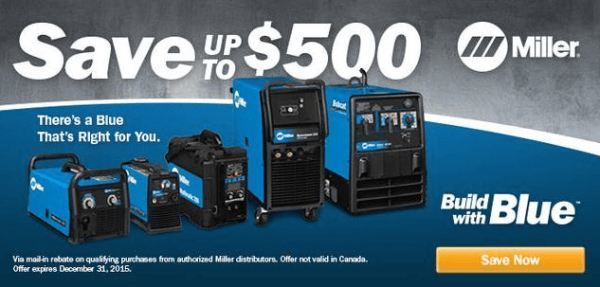 Welcome to Welders Supply Company's home on the WEB. Make this site your FAVORITE for the lowest price on Miller Autodarkening Welding Helmets, MIG welders including our DEAL OF THE DAY MILLERMATIC 252 wire welder, TIG, Stick, ENGINE DRIVE WELDERS, Hypertherm plasma cutters including our DEAL OF THE DAY, HYPERTHERM POWERMAX 45 Plasma Cutter HUGE SAVINGS! IN STOCK for immediate shipment! Check out our Low prices on HYPERTHERM POWERMAX 30xp, HYPERTHERM POWERMAX 65, HYPERTHERM POWERMAX 85, HYPERTHERM POWERMAX 105, SAVE $$$ with FREE SHIPPING! We are The Best Place To Buy All of your welding supplies! We have the Lowest price on VICTOR Journeyman and PERFORMER torch outfits,Metal Pro iron workers, Tillman leather welding jackets, gloves, cape sleeves, chaps, bibs and aprons, Kromer welding caps, Norton abrasives and Metabo Power tools. Shop no more! We have the best price on the WEB! NOTE: Call for pricing if you are buying for a Qualified Educational Institution! Miller Electric, Victor, Tweco, Thermal Arc, Thermal Dynamics, Arcair, Esab, and Hypertherm offer HUGE EDUCATIONAL DISCOUNTS!
GOVERNMENT BUYERS!!
Image courtesy of the Defense Logistics Agency
Welders Supply Company is an experienced supplier to Local, County, State, and Federal Governmental Agencies. Including the Defense Logistics Agency, Department of the Army, Department of Navy, Department of Air Force. EDUCATIONAL DISCOUNTS are available to qualifying educational institutions including Technical Colleges, Workforce Development Job Centers, Colleges, Universities, and High Schools. We accept Government purchase orders, purchasing cards and are set up to Bill through the WAWF.
We are registered with the CCR as CAGE CODE: 0FG64
We are happy to BID on any Government Bid Opportunities for Welders, Plasma Cutters, Torch Kits, Auto Darkening Helmets.
Contact Welders Supply Company at 1-800-236-8825
Since 1938, we have represented quality manufacturers of industrial and medical gases, welding equipment and supplies in Southern Wisconsin and Northern Illinois. We offer same day deliveries to Major Metropolitan markets including Milwaukee Wisconsin, Rockford Illinois, Beloit and Janesville Wisconsin. Coupled with the dependable supply of premier products, it is our commitment to provide courteous and supportive services to assist our customers in the efficient application of the products. Our reputation has grown as a supplier of integrity in relationships with customers.
Our quality welding supply product lines include:
Gases and equipment for MIG (metallic inert gas) welding, TIG (tungsten inert gas) welding, stick electrode (shielded metal arc) welding, plasma welding and cutting, laser processes, oxy-fuel welding and cutting, power sources, filler metals, safety equipment such as helmets and gloves, and abrasives.
Welder Supply Company for new and used welding machines, plasma cutters, and welding safety equipment online Call 1-800-236-8825
---
Welding Manufacturer's SPOTLIGHT:
View our current and past welding equipment sales and deals below:
October 2015
*NEW* 3M Welding Helmet

3M Speedglas Welding Helmet 9100, with Welding Filter Kit 9100Xxi (Part#06-0100-30iSW) (Left)
& 3M Adflo PAPR with 3M Speedglas Welding Helmet 9100-Air, HE Filter, Li Ion Batt, ADF 9100XXi, 1/C (Part#35-1101-30iSW) (Right)
The new auto-darkening filter kit for the 3M Speedglas Welding Helmet Series 9100 is your window to a new world of more realistic color and detail – to help you weld, grind and see your finish. With improvements based on input from master welders around the world, the 3M Speedglas Welding Filter 9100XXi sets a new standard for visibility, convenience and ease of use.
September 2015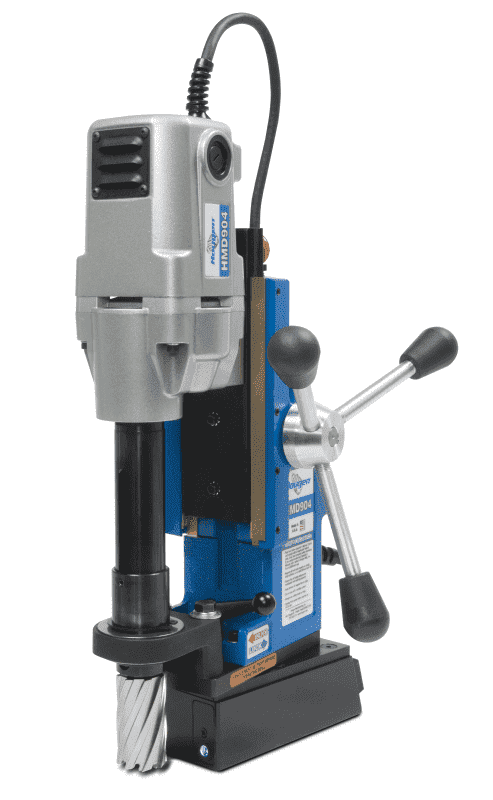 This large (1-1/2" x 2" capacity) magnetic drill packs a powerful punch and it's compact, lightw eight, and versatile. Hougen introduces the HMD904 with Swivel Base.
Redesigned to be better than ever! Work in low light or no light with the NEW pilot light. Enjoy a 30% power increase thanks to the NEW two-stage magnet. Increase your accuracy with the NEW Slot Drive arbor. The housing is all NEW and stronger. The patented Swivel Base is precise, easy to lock and unlock, and great for horizontal, overhead, tight areas and getting out over another piece of steel.
Accessories available to purchase alongside the Hougen HMD904 are the 1" Cutter Kit, 2" Cutter Kit, Rotafoam Cutting Fluid, and Rotacut Kit.
November 2014
Miller Electric is introducing two NEW MIG WELDERS this week:
The Millermatic 141 replaces the Millermatic 140 and the Millermatic 190 replaces the Millermatic 180. They are lower profile, lighter weight and have a new angled drive system to allow for easier wire feeding and better gun liner life. They still have the other features that made the 140 and 180 the best selling mig welders in the world, like the AUTOSET feature. Dial in the wire size and the thickness of the material and your machine is SET! Perfect for the new welder or welder who doesnt do it everyday. They are both part of part of MILLER's BUILD WITH BLUE program so you get $100 Rebate from Miller if you purchase $100 in additional Miller or Hobart Items. Call us for details at 1-800-236-8825.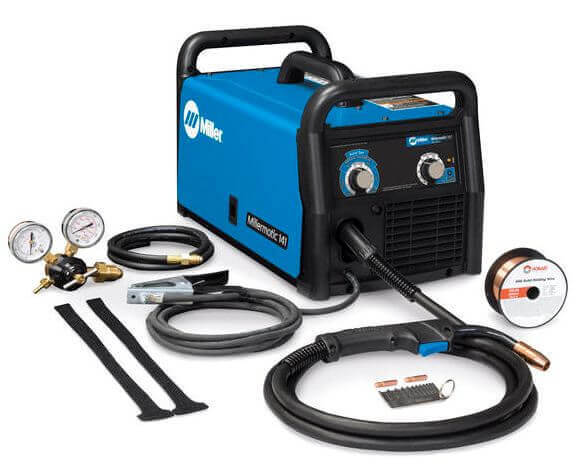 MILLER has come up with a fantasctic Welding Helmet REBATE on their DIGITAL ELITE helmets and DIGITAL PERFORMANCE HELMETS. For purchases made between SEPT, 1, 2014 Thru December 31, 2014 they are offering a $70 Mail In Rebate for the DIGITAL ELITE series helmet purchases and $40 Rebate for the DIGITAL PERFORMANCE helmets. WOW!! With the rebates those are the lowest prices you will ever see on these MILLER AUTODARKENING HELMETS!!! We have em all in stock so order today!!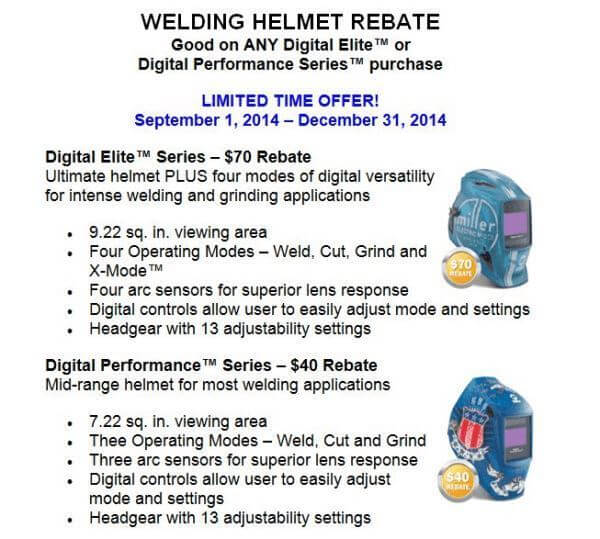 Miller's latest BUILD WITH BLUE program offers REBATES up to $500! Program runs from AUGUST 1, 2014 to January 31, 2015.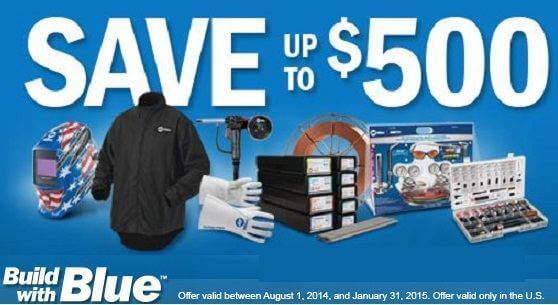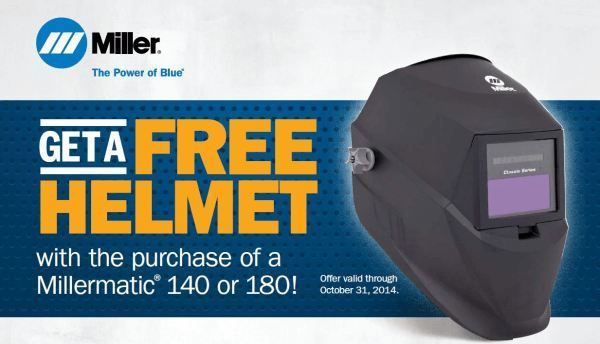 Beginning JULY 1ST through OCT 31ST get a FREE helmet with purchase of a Millermatic 140 (Part numbers: 907335 & 951373) or Millermatic 180 (Part numbers:907312 & 951374)
Are you a current student or recent graduate (within the past year) of a welding or metal fabrication program at an accredited school or training organization? If so, you qualify for Hypertherms Student Purchase Rebate Program. On select systems, the POWERMAX 30, POWERMAX 45, POWERMAX 65, POWERMAX 85, POWERMAX 105 within 60 days of purchase, the qualified student or grad can send in a completed REBATE FORM with the system invoice and proof of attendence or graduation directly to Hypertherm. Rebate amounts (supplied as $100 VISA cards) vary by the system. The POWERMAX 30 qualifies for a $100 rebate, the POWERMAX 45 is a $200 rebate, the POWERMAX 65 is a $300 rebate, The POWERMAX 85 is a $400 rebate, and the POWERMAX 105 is a $500 rebate! WOW! It really does pay to go school!
Thermal Arc Fabricator 186 AC/DC Welder
This is one HOT selling machine with the latest AC/DC Inverter tig technology. Its' the Complete Package!!! People have been asking about this machine and its finally here, in stock, ready to ship.
A high output, high duty cycle, adjustable AC wave frequency, Inverter AC/DC tig welder you can afford! Welder Supply Company is proud to present the Thermal Arc Fabricator 186! The 186 AC/DC is a fully featured, professional performancemachine that has been made easy to use with integrated controls and a simple to use set up chart. Featuring three process capabilities: HF TIG, LIFT TIG, and STICK solutions with AC and DC output, this machine has the power you need. Our package includes the 186I power source, foot pedal, tig torch, regulator, ground clamp, electrode holder and is in stock for immediate shipping. PART# W1006303 Price$1695! with FREE shipping to the lower 48 states. View the Thermal Arc 186 Welder.
Looking for a deal on the Victor Journeyman and Performer outfits?? We made a special buy and our prices are the lowest on the WEB. Check out the DELUXE JOURNEYMAN KIT Part# 0384-2036 $449 with FREE DELIVERY!! WOW!! The Victor medium duty PERFORMER torch kit Part# 0384-2045 on sale for $199.
WE OFFER FREE FREIGHT to the lower 48 states for Orders over $300. Under $300 shipping is just $15.
Thank you to the thousands of customers that have helped us grow.
Tillman Winter Glove Special!
COLD WEATHER IS HERE! Welders Supply Company is pairing up with Tillman Gloves to spread holiday cheer by keeping you safe and warm while you work! With materials like deerskin, pigskin, and cowhide they are strong enough to handle the work and lined to handle the cold! It is a limited time offer! These gloves will be reduced price until January 31, 2013!
For the Flyer for this event, click here.
FALL 2012 Welding Equipment Spotlight
CHECK OUT our Kick-Off to Great Savings Sale.
Sept, 1 thru Nov 30th.
Free shipping on Miller's most popular welders. Millermatic 140, Millermatic 180, Millermatic 211, Millermatic 212, Millermatic 252, Millermatic 350P, Multimatic 200, Diversion 165, Diversion 180, Bobcat and Trailblazer engine drives. Check our our low prices on Miller Digial Elite Autodarkening helmets. Download our PROMO FLYER.
WOW! Here is another nice promotion THERMAL DYNAMICS is running with select plasma cutters including the CUTMASTER 52, CUTMASTER 82, CUTMASTER 102, CUTMASTER 152. Buy one of these units and receive a FREE Thermal 95S Stick welding package direct from Thermal Dynamics. That's a $341 Value! Couple that with our FREE FREIGHT to the lower 48 states and LOW LOW Pricing on Thermal Dynamics Plasma cutters --- you can't beat it! Promotion last Thru DECEMBER 31, 2012.
SUMMER 2012 Welding Equipment Spotlight

3-in-1 MIG - STICK - TIG

IN STOCK!! The Fabricator 211i is a triple threat. MIG, Stick, and TIG welding capabilities all in one package—complete with the game-changing multiprocess welding system. It can deliver from 10 to 210 Amps of welding output power from 230 Volts input or 150 Amps from 115 VAC. It weighs less than 58 lbs! Portable and Powerful! FREE SHIPPING to the lower 48 states! Welders Supply stays up to date on the newest machines for the lowest online prices!

Powermax 105 Plasma Cutter

Here's something NEW from Hypertherm that really puts the POW in Plasma cutting. The Powermax 105 is available beginning in Mid-July!! Take advantage of our special pricing for this new machine. With the maximum power and performance for air plasma in Hypertherm's line, the Powermax 105 delivers superior cut capabilities on 1-1/4" (32 mm) thick metals. It has the duty cycle and reliability for the most demanding cutting and gouging jobs. Seven Duramax torch styles provide greater versatility for hand cutting, portable automation, x-y table cutting, and robotic cutting and gouging. Smart Sense™ technology automatically adjusts the gas pressure according to cutting mode and torch lead length. It also detects electrode end-of-life, automatically turning off power to the torch to prevent potential damage to other parts or the workpiece.

Miller Multimatic 200 Welding Machine

Here's something NEW from Miller Electric! The Multimatic 200 is an incredibly versatile machine you can use for Mig, Tig, and Stick welding. The machine works on either 110 or 220 volt using Miller's multi-voltage plug system. The renowned auto-set feature you've come to know and love with the Millermatic 140, 180, and 211 works for all three processes. The Multimatic 200 is simple to use and weighs only 29 pounds (13.2 kg) so carting it around is as easy as using it. We have the Multimatic 200 on sale for $1785/each!

ArcStation WorkBench

To really raise the benchmark, Miller is running a promotion for a FREE ArcStation Workbench 30FX shipped directly from Miller with every purchase of a Multimatic 200. You just need to fill out a form for proof of purchase! Hurry! It is only available until September 30, 2012! Arc you glad they've worked the bench into the deal?
SPRING 2012 Welding Equipment Spotlight
Miller announces an Engine Drive Game Changer!
The Bobcat 250 Welder has been totally redesigned to offer you HUGE IMPROVEMENTS!
IMPROVED! Quieter and Better Sound
Significant improvements in sound level and quality offer better jobsite communication, which provides a safer, more efficient working environment for you and your crew. New Bobcat welder/generators have rotated the engine toward the front to create more efficient airflow, resulting in significantly quieter operation. Now you can start your job earlier in the day and end it later, as well as work around hospitals, businesses, and residential areas.
IMPROVED! Smaller and Lighter Design
New Bobcat 250 welder/generators take up less space on trucks and trailers—leaving more room on your truck for other equipment and tools. Plus, the Bobcat 250 welder is easier to move safely around jobsites—even with weld cables and running gear attached.
IMPROVED! Easier Maintenance
With its intuitive design, the daily maintenance of our new Bobcat welder/ generators is faster and easier. With front panel maintenance displays, you know when your equipment needs to be serviced. And servicing is simple because of:
Oil checks that can be performed from the top by the front panel
Toolless panels that allow for quick access
Single-side fuel fill and oil drain/filter
Electronic Fuel Injection (EFI) Option
EFI gas engines optimize the air/fuel ratio for all engine speeds and engine loads, resulting in lower operational costs, fewer emissions, longer runtimes and better performance when compared to carbureted models. The payback from fuel savings alone is a matter of months. EFI will give you: 27% Better Fuel Economy saving many users up to $1,000 per year in fuel! Extend Runtimes by as much as 27%...Fast, no choke, Easy Starts in All Climates, Reliable Operation, Even with Infrequent Use, Less prone to fuel deterioration…More Generator Power 12,000 Watts of generator Power! Go Green with Reduced Emissions, 27% less CO and 33% less HC+NOx levels. Now is the time to UPGRADE to the BOBCAT 250! Welder Supply has the BEST PRICING ONLINE, ON THE WEB, IN THE WORLD on Miller Welding Equipment! Call to see if your order qualifies for FREE FREIGHT! 1-800-236-8825.
Past Monthly Welding Supply Specials
January-Feb 2012 Welding Equipment Spotlight
Thermal Arc has cranked the power on their NEW FABRICATOR 3-In-1 Welder. To go along with their highly successful Fabricator 181i they recently introduced the FABRICATOR 252i. This unit truly has the power to get some serious work done. Don't let the small size and weight fool you. The 65Lb inverter holds ups to a 44# spool of wire and delivers the Mig welding power and duty cycle of the popular Millermatic 252 and Lincoln Powermig 256. The big difference is the FABRICATOR 252i is multi-process sporting an awesome Tig and Stick weld up to 300amps! The stick electrode holder comes along with it. The Tig torch package, spoolgun and foot control are optional. The 252i is made in the USA! Thermadyne is offering a mail in coupon for a free auto darkening helmet with the purchase of either of these units. The latest scuddlebutt is the FABRICATOR 211I is due out this summer. This unit will run on 110 or 220 Volt! List price is expected to be $1600.
Check out our new CLOSE-OUT section. This area will include equipment we have overstock of, items that are discontinued or we just plain need room for incoming inventory! All CLOSE-OUT section items ship free to the lower 48 states. SAVE money at WELDER SUPPLY COMPANY! We have the best prices on-line, on the WEB, in the WORLD on Welding equipment and supplies!
January marks the start of our HUGE PLASMA CUTTER SALE! All Plasma cutters are ON-SALE at Huge discounts with FREE FREIGHT to the Lower 48!! Check out our prices on the Hypertherm POWERMAX SERIES Plasma cutters, Thermal Dynamics CUTMASTER SERIES Plasma cutters! The TWO TOP NAMES IN PLASMA CUTTING at Great Low Prices!
---
November-December Welding Equipment Spotlight
Are you looking for the Best Deal on a Miller Mig Welder, Miller Tig Welder, Miller Plasma Cutter or Miller Engine Drive Welder? You are in the right place!! Welders Supply Company has teamed up with MILLER ELECTRIC MANUFACTURING to come up with The Great Holiday Savings Promotion. We have the lowest Pricing on the Millermatic 140, Millermatic 180, Millermatic 211, Millermatic 212, Millermatic 252, Millermatic 350P, Miller Spectrum 375 X-Treme Plasma cutter, Miller Diversion 180 Tig Welder, Trailblazer 302 Engine drives, Bobcat 250 Engine Drives and Miller Digital Elite Autodarkening Welding Helmets! You may qualify for FREE FREIGHT!!! CONTACT US AT 1-800-236-8825 to see if you qualify for FREE FREIGHT on these Quality Miller Mig, Tig , Plasma Cutting and Engine drives!! We have the best PRICE ONLINE, on the Web, IN THE WORLD! ON Miller Welding Equipment, Miller Plasma Cutters, Miller Autodarkening helmets. All Miller welders are MADE IN THE USA! Buy your Miller Welders Online from Welders Supply Company and SAVE MONEY today!
---
SEPTEMBER-OCTOBER Welding Equipment Spotlight
THERMAL ARC has come up with a machine that everyone has been asking for. A portable combination MIG, TIG and Stick machine. THE FABRICATOR 181i! This machine is our Hottest seller and it was just introduced the the U.S. Market this month. The new Thermal Arc® Fabricator® 181i is the only product of its kind. It features MIG, Stick and TIG welding capabilities – complete in one integrated portable package. It's the ultimate compact multi-process welding system that has changed the game.
While supplies last, THERMAL ARC is offering an Introductory Special for the FABRICATOR 181i, A mail in Coupon for a free AUTODARKENING helmet with purchase of the FAbricator 181i. Check out all of our specials at Welders Supply Company!
LOOKING FOR A REVIEW OF THE NEW THERMAL ARC 181i????
The Reviews are in!!! The Thermal Arc 181i is a winner!! Here are some quotes from customers: "Recommended settings were dead on in MIG Mode", "Smooth ARC, No Spatter!", "TIG ARC is strong and smooth even at Low Amperage", "unbelievable performance for such a small machine".
---
AUGUST Welding Equipment Spotlight
Summer is winding down and its time again for The Walworth County Fair August 31-Sept 5, 2011. Started in 1851, its Wisconsin's longest running county fair. There is fun for all ages. Along with the animal exhibits, there is great musical entertainment, demolition derbies, horse racing, tractor and truck pulls, great food and lots of Kids games and Rides. It's a great family environment, very well run with Clean grounds and top notch vendors. Continuing a long tradition, Welders Supply Company will be there to exhibit the latest in Welding and Cutting Equipment. We have stocked up on plenty of equipment including the HYPERTHERM POWERMAX 45 Plasma Cutter. We continue to have these units at the Internet's BEST SALE PRICE.
Buy one at the Walworth County Fair and we will include the Dust Cover at NO CHARGE! That's a $35 extra VALUE! Thermal Arc has come up with a fantastic multi-process machine called the FABRICATOR 181i. A 180 amp MIG, Tig and Stick machine. Its portable (32 pounds!) and welds like a champ in all processes. Stop by our booth at the Walworth county fair and Weld with it! You wont' believe it! The fabricator 181i is priced at $799! With FREE SHIPPING to the lower 48! For the price of one machine, you are getting one that does the work of Two! Call us at 1-800-236-8825 for more details. Stop by and see all of our Specials at the Walworth County Fair, August 31-Sept 5, 2011.
---
JULY Welding Equipment Spotlight
WOW!!!! Miller Electric has come up an excellent PROMO with CASH BACK to the END USER! For purchases of SELECT MERCHANDISE Miller Electric is OFFERING CASH BACK on it's "GOLDEN TICKET" Promotion effective JULY 5th Thru November 4, 2011. CHECK OUT THESE REBATES:
MILLER ELECTRIC MIG WELDING SPECIAL REBATES
MILLERMATIC 140 Auto-Set

$75 CASH BACK
MILLERMATIC 180 Auto-Set

$75 CASH BACK
MILLERMATIC 212 Auto-Set
$125 CASH BACK
MILLER ELECTRIC TIG WELDING SPECIAL REBATES
DIVERSION 180 Auto-Set

$150 CASH BACK
MILLER ELECTRIC ENGINE DRIVE SPECIAL REBATES
MILLER BOBCAT 225(gas)

$200 CASH BACK
MILLER BOBCAT 250EFI

$300 CASH BACK
MILLER ELECTRIC AUTODARKENING HELMET SPECIAL REBATES
DIGITAL ELITE Series Welding Helmets

$25 CASH BACK
MILLER ELECTRIC ARCSTATION SPECIAL REBATES
60XS Arcstation (Fully Loaded)

$75 CASH BACK
30FX Arcstation

$25 CASH BACK
Purchase Eligible product from Welders Supply Company during the promo period and we will send you a GOLDEN TICKET with each ELIGIBLE PRODUCT Purchased. On it will be rebate redemption instructions. ALSO, The ticket has a PROMO code for you to go ON-LINE and see if you are an INSTANT WINNER for $100 and $200 Visa CARDS. It's a GREAT PROMO that's lasting to NOVEMBER 4, 2011. SAVE MONEY WITH WELDERS SUPPLY COMPANY AND MILLER ELECTRIC! Redeem your rebates at: http://www.millerwelds.com/goldenticket
---
JUNE Welding Equipment Spotlight
Miller Electric Auto Darkening Welding Helmets
Miller Electric is dominating the auto darkening welding helmet market! How did they do it? They have come up with the widest range of helmets with the best graphics. There is truly something for everyone. You can pick up their PRO-HOBBY SERIES Black shade 10 auto darkening welding helmet part# 231703 for $99.00! If you need variable shade, their PRO-HOBBY SERIES Black variable shade auto darkening helmet part#231404 is on sale for $129.00! WOW!! If you need something with a little bigger viewing area and a better reaction to low end tig welding, look at the PERFORMANCE SERIES auto darkening welding helmets. The black PERFORMANCE SERIES auto darkening welding helmet part# 232035 is on special for $185.00! For the welder who wants Miller's Largest viewing area pick up the Miller Elite Series auto darkening welding helmets. The black Elite Series auto darkening helmet part# 241975 is on sale for $249.00! AND NOW!!! The Elite Series is available with DIGITAL controls for easier set up. The black DIGITAL ELITE SERIES auto darkening welding helmet part# 241979 is on sale for $269.00!! NEWS FLASH>>>Miller DIgital Elite helmets qualify for a $25 CASH BACK REBATE FROM MILLER!! Its cheaper to Go DIGITAL!! Miller's GOLD TICKET REBATE PROGRAM RUNS FROM JULY 5 to NOV 4, 2011!
Redeem your rebate at: http://www.millerwelds.com/goldenticket/
LETS SAY YOU'RE A WELDER DOING HIGH AMPERAGE WELDING! 3/32 flux core welding toast the standard auto darkening lens! Miller has the answer with their TiTanium Series auto darkening welding helmets. They have added an innovative aluminum protection plate to protect the electronics. Three TiTanium Series helmets are available. My personal favorite Titanium series auto darkening helmet flips up for full clear view grinding, its Part# 245804 on sale for $309.00! We have Millers Complete Line of auto darkening helmets available on our website and All Miller Auto darkening welding helmets are on sale this month with FREE SHIPPING to the lower 48 states! Shop no more! We have the best price ON-LINE, on the Web for Miller Auto Darkening Welding Helmets!
---
MAY Welding Equipment Spotlight
NEW!!! VICTOR TORCH KIT OUTFITS FOR PROPYLENE
Victor Equipment Company and Welders Supply Company are proud to introduce TWO NEW professional series torch kit outfits designed for use with PROPYLENE. Both kits feature the popular "EDGE" series regulators, the safest, most reliable regulators on the market today. With Acetylene prices SKY HIGH, here is a real opportunity to save money with the highest quality safest professional torch kit outfits on the market.
The Heavy Duty VICTOR JOURNEYMAN Torch Kit Outfit FOR PROPYLENE IS PART# 0384-2043 is at a special introductory SALE price of $395.00 while supplies last!
The Medium Duty VICTOR PERFORMER Torch Kit Outfit FOR PROPYLENE IS PART# 0384-2048 is at a special introductory SALE price of $245.00 while supplies last!
ORDER NOW!!! SAVE MONEY!!! WE HAVE THE BEST PRICES FOR WELDING EQUIPMENT ON THE WEB!!!
CALL 1-800-236-8825
---
APRIL Welding Equipment Spotlight
CARBIDE INDUSTRIES FIRE
Welders Supply sends our prayers and sympathy to the entire Carbide Industries family for the loss of two employees after an explosion and fire on March 21, 2011.
Carbide Industries plant in Louisville, KY reportedly makes up to 75% of the calcium carbide supply in the US market. Calcium carbide is the main ingredient when added with water makes ACETYLENE. The loss of this supply will have a huge impact on the supply of acetylene. We expect shortages and price increases. UPDATE 4/28/2011--Acetylene allocations are prevelant. Surcharges announced by producers.
There is no clear timeline as to when Carbide Industries will resume production. This poses great concerns for our customers and we are ready and willing to work with you on finding alternatives to ACETYLENE.
One immediate solution is to convert from Acetylene to Propylene. The question has often been asked as to whether regulators designed for acetylene service can be used with propylene. The simple answer to this question is NO. Even though the cylinder connections are the same and the construction of the regulators are similar, switching gas types for the designed gas service of a regulator is not permitted as outlined in the safety standard ANSI Z49.1-2005 "Safety in Welding, Cutting and Allied Processes." This publication clearly states that "Pressure reducing regulators shall be used only for the gas and pressures for which they are labeled."
A regulator for use with propane or propylene must be marked "L.P. Gas." This indicates that it can be used with liquid petroleum fuel gases such as propane or propylene.
You will also need to purchase new cutting tips and make sure your Hoses are "T" grade. Contact Welders Supply Company at 1-800-236-8825 with your torch model and we will set you up with what you need to convert to PROPYLENE. Welders Supply Company will provide a FREE PROPYLENE TIP with a purchase of NEW OXY/FUEL outfits. Check out our section on ACETYLENE REPLACEMENT PRODUCTS
Another solution is to use PLASMA CUTTING in place of Oxy/Acetylene cutting. Plasma cutters are easy to use and are able to cut any metal that conducts electricity. The Hypertherm Powermax 45 is able to cut ½" steel with ease and is part of our HUGE PLASMA CUTTER SALE. HYPERTHERM POWERMAX 45 Plasma Cutter SALE! FREE SHIPPING!! HYPERTHERM POWERMAX 30 Plasma Cutter $$SAVE$$ FREE SHIPPING!! THERMAL DYNAMICS CUTMASTER 42 Plasma Cutter SALE PRICE$945 WOW!!! FREE SHIPPING!! AND IT comes with a mail-in rebate form for a FREE Thermal Dynamics® canvas tote while supplies last. We have the BEST PRICE on the WEB for PLASMA CUTTERS. Call for more information at 1-800-236-8825.
---
MARCH Welding Equipment Spotlight - Plasma Cutter
Thermal Dynamics Plasma Cutting Systems recently introduced its CUTMASTER 42 Plasma Cutter. It's in a class all of its own. Most comparable plasma cutters allow for 110 and 230 volt operation. The CUTMASTER 42 plasma cutter is unique in that it will give a full 40 AMPS cutting power when running 230Volt. So for the price of everyone's 30 Amp plasma cutting machine you get an extra 10 AMPS of cutting power.
The CUTMASTER 42 Plasma Cutter is your BEST BUY dollar for AMP!
NOW with Industry Leading FOUR YEAR WARRANTY!
Welders Supply Company is offering the CUTMASTER 42 plasma cutter ON SALE PRICE $945.00. As an extra BONUS...Thermal Dynamics is offering customers a FREE canvas Tote with Purchase of the CUTMASTER 42 plasma cutter. Contact Welders Supply Company at 1-800-236-8825 to place your order today! ITS PART OF OUR HUGE PLASMA CUTTER SALE! Check out all of our Plasma cutters! We have the BEST PRICE ON THE WEB ON PLASMA CUTTERS!
---
FEBRUARY Welding Equipment Spotlight - Plasma Cutting
Hypertherm, sometimes called Hypotherm or Hypentherm designs and manufactures the world's most advanced plasma cutting systems. Its product line includes handheld and mechanized plasma systems and consumables, as well as CNC motion and height controls. Its best selling handheld system is the POWERMAX 45 Plasma Cutter. This lightweight (37Lbs.) machine offers a heavyweight cut capacity at 1/2" at 25 Inches per Minute.
New from Hypertherm is the POWERMAX 65 which replaces the POWERMAX 1000 and the POWERMAX 85 that replaces the POWERMAX 1250. Theses two new plasma cutters are much easier to use than any other plasma cutter on the market. The have eliminated the confusion about where to set your air pressure at with their Smart Sense™ technology. It automatically adjust the gas pressure, even as you change from cutting or gouging. These new systems also come with four different torch configuations. Their standard 75 Degree handheld torch is now available in a 15 Degree head which is great for tight spaces, overhead cutting and plasma gouging. Along with their standard length machine torch they now offer a Mini machine torch which is great for Robotic cutting applications. For more information on Hypertherm products their website is: http://hypertherm.com.
---
Contact Wisconsin Welder Supply Company
For all your welding supply needs from plasma cutters to auto darkening helmets, choose Welder Supply Company and get the best prices on welding equipment.
Welder Supply Company for welding machines, plasma cutters, and welding safety equipment online Call 1-800-236-8825