Featured Welding Products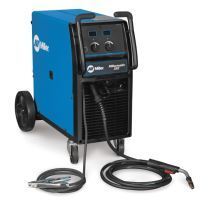 Millermatic 252 208/230 Volt Wire Welder Part#907321 FREE SHIPPING!
$2,864.00
$2,195.00
View Product

Your Cart Is Empty Millermatic 212 Auto-Set/Spoolgun Package 220 Volt Wire Welder Part#951177 FREE SHIPPING!
Product Features
Millermatic 212 Auto-Set Wire Welder #951177
FREE SHIPPING to the lower 48 states! (some restrictions may apply)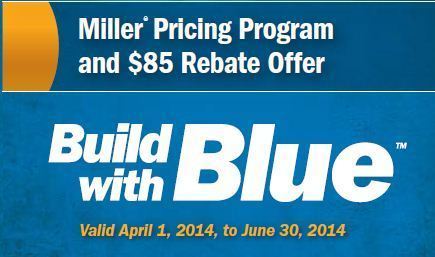 This unit is part of MILLER'S latest Build with Blue program. Buy this unit and purchase atleast $85 worth of Miller/Hobart accessories and you qualify for an $85 rebate from Miller. We will even fill out the paperwork for you!
If you do a lot of aluminum welding the Millermatic 212 Auto-Set/Spoolgun Package is perfect for your needs. Our popular Millermatic 212 now comes with a Spoolgun. In a Spoolgun the aluminum wire is in the gun itself so has less distance to travel. Aluminum is a softer metal and gets tangled and kinked up easier than other metal wires, which is why the wire does not come from the machine as in other Mig welding.
The Millermatic 212 comes with the breakthrough Auto-Set technology so virtually anyone can set it with ease! The Millermatic 212 Auto-Set/Spoolgun Package 220 Volt Wire Welder automatically sets to the proper parameters. Rated at 150 amps and 60% duty cycle, this is Miller's mid-level 220 volt wire welder.
EZ-Change Low Cylinder Rack - Easily roll your co2, argon, and combination gas cylinders on and off the rack without lifting. This will potentially save you on workman's comp claims and your back!
Compatible with Spoolmate 200 Series Spool Gun - this gun provides a consistent feed with the power to burn in the weld.
Line Voltage Compensation - Welding output is held at a constant voltage. Even while power input varies by +/- 10%.
Fan-On-Demand Cooling System - Save money and energy by having the fan only run when necessary. This will reduce power consumption and prevent unnecessary contaminants from entering into the machine.
15 ft. MIG Gun - for better reach.
A great tool for your MIG welding and perfect if you also do a lot of aluminum welding work with the Spool Gun.
To read literature of this machine:
To read literature of the Spoolgun:
You won't find prices better than ours! Welders Supply Company has the best prices on the web!
Be sure to check out our wide variety of Mig, Tig, and Stick welders available online.