Featured Welding Products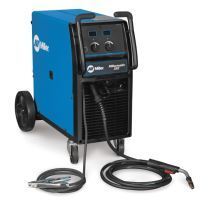 Millermatic 252 208/230 Volt Wire Welder Part#907321 FREE SHIPPING!
$2,864.00
$2,195.00
View Product
My Shopping Cart Millermatic 211 Auto-Set 110/220 Volt Mig Welder Part#907422 FREE SHIPPING!
Product Features
Millermatic 211 Auto-Set Mig Welder #907422
FREE SHIPPING to the lower 48 states!
The Millermatic 211 Auto-Set 110/220 Volt MIG welder is very versatile and powerful. This beauty of a welding machine is Miller's most versatile single phase Mig welder. The Millermatic 211 Auto-Set 110/220 Volt MIG welder runs on 110 volt OR 220 volt with the quick change of a plug. It also features the new Auto-Set technology, automatically setting your welder to the correct parameters. This welding machine has the highest output in its welder class. The Millermatic 211 Auto-Set 110/220 Volt MIG welder can weld from 24 ga - 3/8 in (0.8-9.5mm) mild steel in just a single pass. This machine is a great choice for you shop!
Smooth-Start –allows you a smooth, spatter-free start to your welding.
Durable Cast Aluminum Drive System – incorporates dual groove quick-change drive roll and spring-loaded tension arm with calibrated tension knob to make your setup quicker and easier.
"Tip Saver" Short Circuit Protection – Shuts down the output when tip is shorted to the work which extends the contact tip life and protects the internal components from damage. The Trigger reset allows a quick reset at the gun instead of the machine.
Spool Gun Ready – Right out of the box, this Mig welder is ready to go. The new spoolmate 100 lets you weld from 18 ga – 3/8 in. aluminum.
Infinite Voltage Control – flexibility to set the machine manually whenever you desire.
General Specifications

Input Power

230 V, 25 A, 60 Hz, 1-Phase

120 V, 20 A, 60 Hz, 1-Phase

Rated Output

150 Amps at 23.5 VDC, 30% duty cycle (230 V)

90 Amps at 20 VDC, 20% duty cylce (120 V)

Welding Amperage Range

30 - 210 Amps

Wire Speed

60 - 460 IPM (1.5 - 11.7 m/min)

Net Weight

74lb (33.6 kg)

WireDiameter Capacity

.023 - .035 in (0.6 - 0.9 mm) Solid Steel

.023 - .035 in (0.6 - 0.9 mm) Stainless

.030 - .045 in (0.8 - 1.1 mm) Flux Cored

MaxSpoolSize Capacity

8 in (203 mm)
Applications
Aluminum Welding
Farm and Ranch
Field Maintenance and Repair
Home/Hobby
Metal Art/Sculpture
Motorsports (car, truck, bike, etc.)
Schools/Training
Welding Projects
To view literature of this machine:
Welders Supply Company offers the best price for this best-selling single Mig Welder online!
Check out our wide selection of Mig, Tig, and Stick welders available online.