Featured Welding Products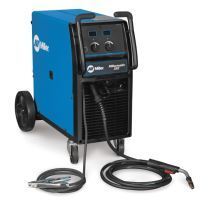 Millermatic 252 208/230 Volt Wire Welder Part#907321 FREE SHIPPING!
$2,950.00
$2,250.00
View Product

Your Cart Is Empty Hypertherm Powermax 45 Plasma Cutter Part# 088016 20Ft Hand Torch
Hypertherm Powermax 45 Plasma Cutter Part# 088016 20Ft Hand Torch
Product Number:
088016
Price: Add to Cart to See Discount
Product Features
Hypertherm Powermax 45 Plasma Cutter #088016
This is the "DEAL OF THE DAY"
Hypertherms most popular handheld plasma with true 1/2" cutting capacity. It is a 230 volt single phase system with plenty of punch to pierce even thicker plate. Save hundreds of dollars with todays special and we will ship it free to anywhere in the lower 48 states.
Comes complete with a 20' torch assembly and 20' ground lead with clamp or check out additional accessories such as a parts kit, replacement nozzle, electrode or cover.
ORDER TODAY AND SAVE!
Key power supply advantages
Small size and light weight provide unmatched portability among 1⁄2" (12 mm) machines.
Boost Conditioner™ (on CSA models) compensates for input voltage variations on 200 - 240 V lines, providing improved performance on low-line voltage, on motor generators and on fluctuating input power.
available CNC interface. FastConnect™ torch connection increase versatility for handheld and mechanized usage.
Powercool™ design cools internal components more effectively for greater system reliability and improved uptime.
Key torch advantages
Conical Flow™ increases arc energy density for superior cut quality with little dross.
Patented drag-cutting technology makes it easy to use - even for first‑time operators.
Dual-angle design extends nozzle life and lowers operating cost.
To view literature of this machine:
Hypertherm Powermax Plasma Cutter #088016 Manual
To view videos of this machine:
Mechanized Cutting with Hypertherm Powermax Plasma Cutter #088016
Handheld Cutting with Hypertherm Powermax Plasma Cutter #088016