Featured Welding Products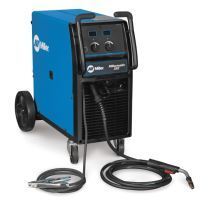 Millermatic 252 208/230 Volt Wire Welder Part#907321 FREE SHIPPING!
$2,864.00
$2,195.00
View Product

Your Cart Is Empty Hypertherm Powermax 65 25ft Hand Torch Part# 083270
$$ SAVE $$/ea
$$ Add to Cart to See Special Discount $$
Product Features
Do More Than Ever Before with the Powermax 65 !
Hypertherm Powermax 65 hand torches from Welders Supply provide safer plasma cutting. The 15 degree and 75 degree Duramax hand torches are built with heat resistant torch handles to reduce downtime for plasma cutting. A Conical Flow nozzle increases cut quality and decreases dross building. The dross shield enables easy drag cutting while reducing cleanup time.
The Hypertherm Powermax 65 has many advantages over other torches. The hand torch control panel features an LCD screen for easier operation. Boost Conditioner circuits improve performance for motor generators, low line voltage and fluctuating input power.
Offering the latest technological innovations, like Smart SenseTM technology to automatically adjust the gas pressure, the Powermax65 helps you do more than ever before. Four DuramaxTM torch styles provide greater versatility and enable operators to select the right tool for the job.
Recommended Cut Capacity 3/4"
Key power supply advantages of Hypertherm Powermax 65
Smart SenseTM technology automatically adjusts the gas pressure according to cutting mode and torch lead length for optimal performance.
Boost ConditionerTM circuit (on CSA models) improves performance on low‑line voltage, motor generators, and fluctuating input power.
FastConnectTM torches, optional CNC interface, and four work lead styles increase versatility for handheld and mechanized use.
Simplified control panel with LCD screen for easy operation.
Key torch advantages of Hypertherm Powermax 65
15° and 75° DuramaxTM series hand torches enable operators to easily select the right tool for the job. The handle is more heat resistant and performs at least five times longer in high impact tests than previous torches.
Standard and short-barreled Duramax series machine torches allow a wide variety of mechanized applications with X-Y tables, track systems, pipe and robotic cutting systems.
Conical FlowTM nozzle increases arc energy density for superior cut quality with little dross.
Patent pending shield reduces dross buildup and enables smoother drag cutting for a better cut.
To view literature of this machine:
To view a video of this machine:
Shop other Plasma Cutters online from the experts at Welders Supply.