Featured Welding Products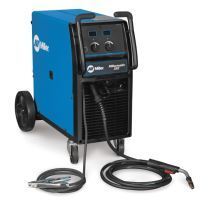 Millermatic 252 208/230 Volt Wire Welder Part#907321 FREE SHIPPING!
$2,864.00
$2,195.00
View Product
My Shopping Cart Millermatic 180 Auto-Set 220 Volt Wire Welder Part#907312 FREE SHIPPING!
Product Features
Millermatic 180 Auto-Set Wire Welder #907312
The Wire Welder anyone can Set!
FREE SHIPPING TO THE LOWER 48 States.
This machine is part of Miller Electric's Build With Blue Promotion. Buy this unit and $150 to $600 of Miller or Hobart accessories and recieve a 10% rebate on the Miller/Hobart items on your order! For example: Purchase this 180 Package at our Sale price of $858. Add a spoolmate 100 Spoolgun package to the order we have on SALE for $211. Your order would total $1069. Send in your rebate form to Miller and recieve $106.90 back! Your getting your 180 at a great price and paying only $104.10 for the spoolgun if you consider the rebate!! SWEET now you can mig weld aluminum too! CLICK HERE FOR PROMOTION DETAILS.
The Millermatic 180 Auto-Set is the wire welder anyone and everyone can set. If you have 220 volt power, give yourself the extra punch to finish the job! Choose the Millermatic 180 Auto Set wire welder for great welding results. Auto Set automatically sets your welding machine to the correct parameters- hassle free! This is Miller's entry level 220 volt wire welder, rated at 130 amps and 30% duty cycle. This welding machine comes with a 3 year warranty and gives you the power you need to do the big jobs with the highest output in its class.
Spool Gun Compatible – The spoolmate 100 spool gun is hooked up to a 180 Auto-Set, allowing you to weld from 18 gauge to 1/4 in. aluminum.
Thermal Overload Protection –Shuts down your unit and activates the over temperature light automatically when airflow is blocked or if the duty cycle is exceeded. Also automatically resets once the fault is corrected and unit is cooled.
Smooth-Start –allows you a smooth, spatter-free start to your welding. This Millermatic is the best starting machine in the small Miller Mig welder category.
Durable Cast Aluminum Drive System – incorporates dual groove quick-change drive roll and spring-loaded tension arm with calibrated tension knob to make your setup quicker and easier.
"Tip Saver" Short Circuit Protection – Shuts down the output when tip is shorted to the work which extends the contact tip life and protects the internal components from damage. The Trigger reset allows a quick reset at torch.
Specifications

Input Power

Requires 1-Phase power

230 V, 21.7 A, 60 Hz

Rated Output

135 Amps at 22.5 VDC, 30% Duty Cycle

Welding Amperage Range

30 - 180 Amps

Wire Speed

95 - 565 IPM (2.4 - 14.4 m/min)

Net Weight

72 lb (32.7 kg)

WireDiameter Capacity

.024 - .035 in (0.6 - 0.9 mm) Solid Steel

.024 - .035 in (0.6 - 0.9 mm) Stainless

.030 - .045 in (0.8 - 1.2 mm) Flux Cored

MaxSpoolSize Capacity

8 in (203 mm)
Applications
Aluminum Welding
Farm and Ranch
Field Maintenance and Repair
Home/Hobby
Mechanical Contracting
Metal Art/Sculpture
Motorsports (car, truck, bike, etc.)
Schools/Training
Welding Projects
This is a top of the line Miller welding machine guaranteed to be a good fit in your welding shop!
To view literature of this machine:
Be sure to view Welders Supply Company's full selection of Mig, Tig, and Stick welders available at the best prices online!