Wisconsin Welders Supply Company History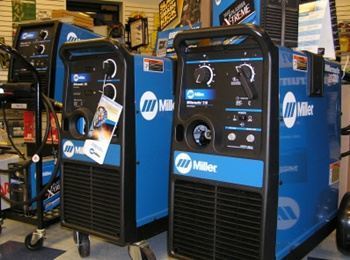 We are Welders.
Before the Mount Rushmore permanently changed the face of a granite rock and Route 66 connected Chicago to Los Angeles, George Uhlir was born. He was destined to build a welding supply company that we now know as Welders Supply. He opened the first Welders Supply 1938 in Beloit, Wisconsin.
This was just in time for the massive influx of welding demand for supplies during WWII. American factories' output was twice that of all the Axis Nations during WWII – thanks in part to amazing American welders, like you.
George Ulhir was a well-known and respected welder with a lot of industry experience, so it made perfect sense that he start a welding superstore that offered the finest and best welding products on the market.
Welding Fact: Gas tungsten arc welding was invented in 1942 and was used to weld fighter planes during WWII.
We Know How to Sell Welding Supplies Because We are Welders
Today, his tradition continues. Welders Supply is a dependable source of top-quality welding products and expert technical support throughout Southeastern Wisconsin and Northern Illinois. What once was one small office in Beloit, Wisconsin, is now 5 store fronts scattered across Wisconsin and Illinois.
Over the years, more sophisticated metal joining and cutting processes were invented. In addition to traditional metalworking customers, Welders Supply Company now serves a diverse array of industries including chemical, medical, construction, food processing and vocational schools.
The company has grown consistently -- focusing on quality in the manufacturers we select to represent and by the value-added services we provide. Independently owned, Welders Supply Company has capable, responsible employees able to respond effectively and promptly to the needs of customers.
Best Pricing
Our pricing is simply the best on the market. It's so good that we set the pricing standard for the whole industry. Our service is outstanding and our commitment to your success is paramount.
Proudly Delivering Welding Supplies from Top Quality Manufacturers
Welders Supply Company is your leading source for new and used welding machines, plasma cutters, and other welding equipment online.