Our more popular welding helmets include:
Welding Helmets and Accessories for Every Application
Welders Supply Company carries a full line of quality, name-brand auto-darkening welding helmets at the most competitive prices anywhere. Our large selection of Miller auto-darkening helmets and Miller welding helmets cover the needs (and heads) of both weekend hobbyists and welding professionals. The same goes for the 3M Speedglas, Optrel and Jackson helmets we carry, as well as our many other affordably priced auto-darkening welding helmets. For quality, name-brand welding helmets and welding helmet headgear at the lowest prices online, you can't beat Welders Supply Company.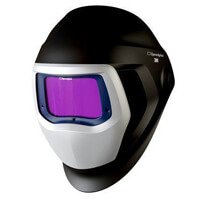 Welding helmets are one of the most important pieces of protective equipment for welding, protecting a welder's eyes and skin. Many professional welders still favor a traditional helmet with a glass lens and fixed shade. These traditional, passive lens helmets provide inexpensive protection, but every time you want to examine your welds you have to lift the helmet, then re-position and secure it when you flip it down. It's a quick and simple movement, but multiplied by hundreds of times over the course of a day and it can use up a lot of time and energy.
We carry welding helmets for all types of applications, including:
Auto-darkening helmets not only protect against harmful light emissions, but the helmet's shade easily changes back and forth between light and dark state without having to lift or completely remove the helmet. Besides being easier to use, they're comfortable and they come in a wide range of colors and graphics, including skull welding helmets, so you can bring a little bit of your personality to work with you. Panoramic auto-darkening helmets add another layer of comfort and efficiency with a 180° field of view. See all the welding helmets with custom designs available from Welders Supply.
Helmets for All Types of Welding
Our welding helmet supplier carries an assortment of welding helmets for all different types of welding. From flux core helmets to torch cutting, we've got it all:
Passive Shade Helmets vs Auto-Darkening Helmets
As you can imagine, the primary difference between passive shade welding helmets and auto-darkening helmets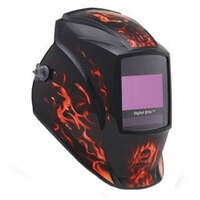 is the lens. With a passive shade helmet, the colored glass doesn't lighten or darken, while auto-darkening helmets have lenses that automatically darken when you start your torch and then turn clear when you turn off the torch.
There are pros and cons to each type of helmet, which we've outlined below. Your own personal experience as a welder, as well as the type of work you do, will determine which type of helmet will work best for you.
Passive Shade Helmets
PROS
CONS

Lower cost than auto-darkening helmets
Replacement lenses less expensive
Lenses can be quickly changed out
Lighter weight than auto-darkening helmets
Doesn't require batteries
Simplicity – No need to adjust sensitivity controls

Inexperienced welders can have bad starts on welds because it's difficult to see the tip of the torch when starting a weld
The movement of one's head required to snap the helmet down can cause repetitive stress injury
You'll need to buy a variety of lenses to be prepared for every welding environment
Three Great Passive Shade Helmet Options:
Auto-Darkening Helmets
PROS
CONS

No need to repeatedly lift or remove your helmet to see your work
Not having to "nod" the helmet into place greatly reduces the chances of repetitive stress injury to the neck
Narrow helmet design is better suited for work in tight spaces
The semi-transparent state provides UV and infrared protection at all times
Some helmets have side windows for better visibility

Significantly more expensive than passive lens helmets and slightly less optically sound
Only fully adjustable shade helmets provide a complete range of tints--too often, you're limited by the shades offered
Lenses are considerably more fragile than passive lenses
Replacement lenses are considerably more expensive than passive lens glass
Helmet Accessories—Welders Supply Has Everything You Need
Whether it's your first welding helmet or your fifth, it's inevitable you'll need to replace a lens or a battery holder at some point. You may also want to add a respirator or find yourself needing a sweatband or strap pad. Welders Supply has virtually every helmet accessory available, and at the lowest possible prices. If you don't see what you need here, let us know and we'll do our best to track it down for you.
Helmet Accessories Available at Welders Supply:
Replacement headgear
Replacement lenses
Batteries and battery holders
Respirators and replacement filters
Sweatbands and pads
Helmet bibs
Ear and Neck protectors
Find Welding Gases & Supplies Near You
Welders Supply Company stores carry a complete selection of industrial and medical gases, welding equipment and supplies for sale in southeastern Wisconsin and northern Illinois. We sell, rent and exchange refilled gas tanks and cylinders for welders in many cities throughout the region, including Kenosha WI, West Bend WI, DeKalb IL, and Waukegan IL.

Welders Supply Company store locations provide same-day gas delivery to: Milwaukee, Wisconsin; Rockford, Illinois; Crystal Lake, Illinois; Beloit, Wisconsin; Janesville, Wisconsin; Big Bend, Wisconsin; and Racine County, Wisconsin.
For assistance with welding equipment questions, contact Welders Supply Company or call us at 1-800-236-8825.