Tillman
Our more popular Tilman welding accessories include:
Tillman Gloves And Apparel Offer Excellent Protection
Welders Appreciate Effective Protection from Tillman Apparel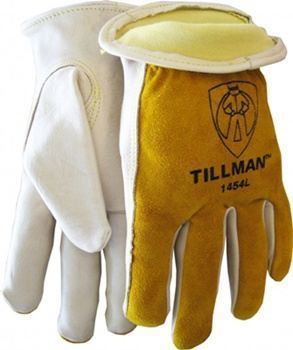 The John Tillman Company manufactures excellent protective gloves, protective welding apparel and accessories. The product line includes Tillman welding gloves (Stick, Mig, Tig), TrueFit (mechanics style), specialty, high heat, drivers, work, clothing (leather, high heat, lightweight flame retardant), curtains/screens, welding blankets and accessories. Tillman is now one of the leading suppliers to the welding industry.
Protective gloves are especially needed for stick welding. This process generates the most heat, spatter and spark. However, stick welding doesn't demand a lot of flexibility so the gloves can be thicker and provide greater protection against heat. It's precisely the type of glove Tillman provides.
Tig welding is different. It produces the lowest heat and the flame which are concentrated in a certain area. There are minimal sparks and spatter. The gloves need be thinner top grain leathers so welders have more feel and dexterity. Mig welding heat levels are less than stick welding. Operating a welding gun with a trigger requires more dexterity. Mig gloves from Tillman are usually lighter so you have more dexterity.
Tillman Protective Apparel is Comfortable and Durable
Other Tillman products include extremely comfortable protective apparel. Welders particularly like the Tillman Light Duty Welding Jacket, Tillman's new Freedom Flex Welding Jacket and the Tillman Firestop Welding Jacket. Also very popular are the Tillman Leather Bib Apron, Tillman Leather Chaps and the Tillman Fire Resistant Cotton Green Cape Sleeve.
Tillman protects you during welding. With our low prices, Welder's Supply protects you from spending too much money on excellent welding products.