Hypertherm
Your Search Results:
Our more popular Hypertherm products include: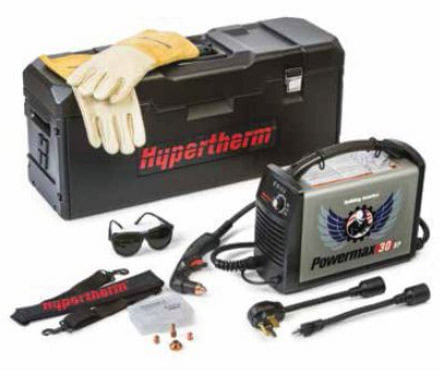 Handheld Cutting
Hypertherm makes every cutting and gouging project better, faster and easier. Their Powermax line consists of six highly portable air plasma systems for handheld cutting and gouging. The equipment can handle any electrically conductive metal. Severance cut capacity is 5/8" at 30 Amps all the way up to 2 1/4" at 125 Amps. Hypertherm Plasma Cutting Systems—like the Powermax 30xp Plasma System or the Powermax 30 Plasma System—help you do it all.
Welders Supply does it all, too. When you want the best customer service and lowest online prices, we're here for you.
Automated Cutting
Hypertherm makes a full range of automated cutting products and accessories. Their mechanized plasma systems are available with a complete line of consumables. Laser Systems can be selected for either fiber laser or CO2.
Heypertherm's HyPrecision Water Jet Pumps offer the finest performance and durability. State-of-the-art controls include Computer Numeric Control (CNC) and drive software. CAD/CAM nesting software is also available, as are Torch Height Controls (THC) such as Air Guide THC, Sensor PHC, THC & OHC, and Legacy THC.
Hypertherm has everything you need for precise, automated cutting. And Welders Supply is all you need for the largest selection and lowest online prices!
See Also: Hypertherm Powermax 30 AIR (with built in compressor)
Welders Supply: The Hypertherm Dealer for All Your Plasma Cutting Needs
No need to locate a Hypertherm distributor in your area, or even in your country—Welders Supply ships worldwide to these countries (and more):
U.S. (free shipping to lower 48 states!)
Canada
Mexico
U.K.
Netherlands
U.A.E.
India
Japan
Australia
Indonesia
Free Shipping on Orders Over $300
Welders Supply is the best Hypertherm dealer in the United States (and, quite possibly, the universe). You'll find the lowest prices on plasma cutters, hand and mechanized torches, consumables, accessories, safety gear, and thousands of other welding equipment essentials. But that's not all--you'll also get free shipping within the continental US on all orders over $300.
Browse through all our quality welding equipment from top brands like Miller, Tillman and Hobart.