Welders For Sale
MIG, TIG, Stick, Multiprocess & Engine Driven Machines

Hot Deals on Miller Welding Machines!
Each of the eligible welding machines listed below comes with SIX FREEBIES at no extra cost, including a free spool gun. All purchases ship free anywhere in the domestic U.S. Supplies are limited - get these deals while they're hot!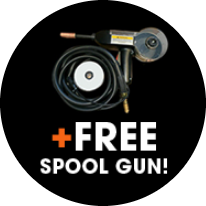 ---
Our more popular welding machines include:
Welding Machines for Sale at the Best Prices Online
Welders Supply Company carries a full line of quality name-brand welding machines and welding supplies to make your next welding project a success. You won't find a better deal anywhere else, and all orders over $300 qualify for free shipping within the continental US.
---
Stick Welders for Sale
Using the oldest and simplest form of welding, stick welders are the most cost-efficient option and are common for beginners and in industrial settings. Stick welding machines are versatile and can be used on iron, steel, aluminum, nickel and copper alloys. Most welders capable of stick welding can also perform MIG welding.
| | |
| --- | --- |
| Popular stick welding machines: | |
---
MIG Welders for Sale

MIG welding produces a neater-looking weld than stick welding does without the difficulty of TIG welding, making it popular in manufacturing. MIG welders use a shielding gas to protect the weld. Once this is configured, it is simple to use almost like a hot glue gun.
| | |
| --- | --- |
| Popular MIG welding machines: | |
---
TIG Welders for Sale

TIG welding produces the best looking, cleanest weld possible but is more difficult to learn than MIG or stick welding. TIG welders give the greatest amount of control to a welder. The tradeoff is the steep learning curve and slower speed. TIG welding is the best type of welding for ornamental pieces and auto welding.
| | |
| --- | --- |
| Popular TIG welding machines: | |
---
Other Types of Welders for Sale from Welders Supply

Multiprocess welding machines are capable of at least two of the processes described above, offering greater versatility all in one machine. For welders who plan to weld in the field or away from traditional power sources, engine-driven welders are the best option and can be fueled with either gas or diesel.
| | |
| --- | --- |
| Popular multiprocess welding machines: | |
| Popular engine-driven welding machines: | |
---
Welding Machine Accessories
Shop a wide variety of welder accessories for stick, MIG and TIG welding machines from some of the biggest brands in the game. Accessories include purge chambers, foot controls, weld cleaning systems and more. Stay on top of your game and keep your welds and equipment in top shape with accessories from Welders Supply.
Gas/Oxy Acetylene Welding & Cutting Equipment
Gas welding has been around for a long time and historically was the standard in areas without abundant electricity such as farms and rural communities. Torch welding equipment has stuck around thanks to its simplicity, versatility and portability. At Welders Supply, you'll find torch outfits from top brands like Victor, Miller and Tillman.
---
Welding Machines, Welding Gas, Welding Equipment - Welders Supply Has It All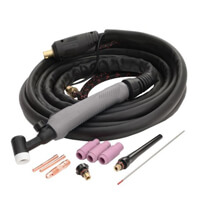 Welders Supply Company is your one-stop shop for everything from welding machines and welding gas to safety equipment and auto-darkening helmets. There's no need to shop around at 5 different stores. Whether you're a hobbyist looking for a good deal on used welding equipment or a professional welding contractor looking to outfit an entire crew, Welders Supply has what you need and we have it at the lowest possible price.
Since 1938, Welders Supply has supplied the southern Wisconsin and northern Illinois region with quality welding equipment and supplies from the top manufacturers. We also sell, rent, and exchange refilled gas tanks and cylinders at our store locations in Kenosha WI, West Bend WI, DeKalb IL, and Waukegan IL.

Our store locations offer same day deliveries to: Milwaukee, Wisconsin; Rockford, Illinois; Crystal Lake, Illinois; Beloit, Wisconsin; Janesville, Wisconsin; Big Bend, Wisconsin; and Racine County, Wisconsin.
Lowest Online Prices and Free Shipping on All Orders Over $300
Besides the lowest online prices on quality welding equipment and accessories, Welders Supply offers free shipping within the continental US on all orders over $300. If you're shopping cart is coming up just shy of the $300 mark, consider adding on some consumables or an accessory so you can take advantage of our free shipping offer.
Shop welding machines from top brands like Miller, ESAB and Lincoln Electric online at Welders Supply.