Miller Designs And Manufactures Superb Arc Welding And Cutting Equipment
Miller Provides Mig Systems, Tig Systems and Stick Welders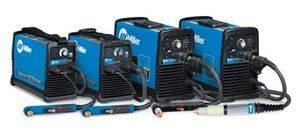 Miller Electric Manufacturing Company makes advanced Mig Systems for semi-automatic Mig applications as well as equipment for robotic automation. Miller Mig Welders are always well-received, especially the Mig Welder as well as newer products like the Millermatic 350P Pulsed Mig Welder and Millermatic 211 Auto-Set.
Miller TIG Welders are extremely affordable, easy to set up, simple to operate and offer great control of the arc and puddle. Miller products are always top sellers at Welders Supply, especially the Miller Dynasty 350 Tig Welder with wireless foot pedal and the Miller Diversion 180 AC/DC Tig Welding Package.
Miller single phase stick welders include the Thunderbolt® XL 225 AC/DC and Thunderbolt® XL 225/150 AC/DC. Single and three phase units are the Maxstar® 200 STR, CST™ 280 and the XMT® Series. Miller's three-phase units are the Gold Star® 652, the Dimension™ Series and the PipePro™ 450 RFC.
Miller Plasma Cutters and Welder/Generators Are Reliable and Accurate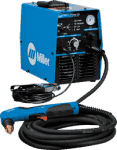 Miller Plasma cutters are dependable, durable and accurate. The Miller single-phase plasma cutters include the Spectrum® 125C and Spectrum® 375. Miller is a world-class manufacturer of spot welders, including the MSW-4, MSW-41T and the LMSW-52.
Miller manufactures over twenty different welder/generators, including the Miller Bobcat 250 AC/DC Engine Drive Welder and the Miller Trailblazer 275. The company's Guns & Torches are well-designed and superbly manufactured. Its protective helmets, safety glasses and protective welding apparel give all-day protection and all-day comfort.
The ArcStation from Miller is the first workstation specifically manufactured to meet the needs of professional welders.
Welders Supply offers a full range of low-priced Miller welding products and supplies online to meet the needs of all professional welders.