Engine Driven
Our more popular engine driven welding products include:
Engine-Driven Welding Machines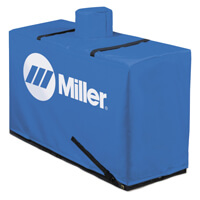 Welders Supply carries a great selection of both diesel and gasoline engine-driven welding machines for all types of welding projects. Whether you weld on large job sites or in a smaller workshop, we have machines for every application. Stick, TIG or MIG welding processes, Welders Supply has all the bases covered.

With all the technological advancements in welding machines, we're always updating our inventory. The trend toward incorporating multiple functions, such as engine driven welding machines also serving as generators, air compressors, and even battery charging stations, brings even greater versatility to welding machines. It's a great time to be a welder!
NEW Bobcat Welders!
Check out the latest and greatest Bobcats from Miller:

Lowest Possible Prices and Free Shipping to the Lower 48

Since 1938, Welders Supply has been the welder's best friend. We started out supplying welders in Wisconsin, but today we serve welders all across the United States...and sometimes overseas, too.

Besides the lowest prices possible on quality welding equipment, we also ship free within the continental US on all orders over $300. And, of course, you can always count on us for expert advice on welding machines and supplies.
For questions about engine-driven welding machines, contact Welders Supply Company and speak with one of our experienced sales reps.