Welding Jackets and Coats
Our more popular welding jackets and accessories include:
Welding Jackets from Miller and J Tillman - Safety Wear Never Looked So Good
Welding has never been an occupation known for its sense of style. Fashion always takes a back seat to safety because, basically, no one wants to turn into a human fireball. Over the years, though, protective apparel for welding has evolved to the point where much of it looks, dare we say it, "stylish."
Welders Supply is pleased to offer welding jackets from Miller and J Tillman, as well as jackets and shirts from Black Stallion, BSX and Revco. Besides meeting OSHA standards for Personal Protective Equipment, these welding jackets fit well, look great (for welding apparel, at least), and have welder-friendly features like underarm gussets and soapstone pockets.
The welding jackets we carry come in a variety of styles, colors and flame-resistant materials. They're all designed to keep you safe on the job while still being able to move about freely. They look pretty darned good, too. And there's nothing wrong with looking good while working safely.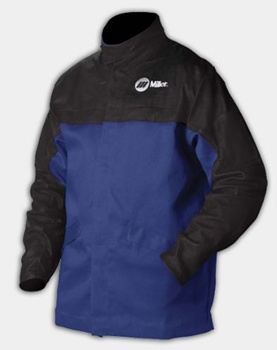 Miller Welding Jackets - Quite Possibly the Last Welding Jacket You'll Ever Buy
The Miller Combo Welding Jacket you see here is made with 100% cotton and guaranteed to be flame resistant for as long as you own it. The cotton is preshrunk, so the jacket will still be your size even after repeated washings. Stitched together with Kevlar thread, this jacket is going to be with you for a long, long while.

Other excellent Miller welding jackets include the Miller Indura Cloth Welding Jacket (guaranteed flame resistant for its entire life) and the Miller Classic Cloth Welding Jacket (which could easily double as a stadium jacket.)
J Tillman Welding Jackets - Comfortable, Long-Lasting Protection
J Tillman has a great lineup of flame-resistant cotton and leather welding jackets. Three of their styles sports mottos on back: "Backbone of America," "Weld or Die" and "Weld. Work. Win." Each is cool, comfortable and long-lasting – maintaining flame resistance for up to 50 home or 25 commercial washings.
Tillman Leather Welding Jackets look great and feature tanned slit side sleeves sewn with long-lasting Kevlar. Their Firestop Jacket is a top-quality product offering excellent protection, and the Tillman "Freedom Flex" Welding Jacket is the ultimate in lightweight protection and freedom of movement. Check out Tillman's welding gloves too.
Revco Black Stallion Welding Jackets - Innovation & Comfort
With Black Stallion products from Revco, you can get more out of your welding gear while replacing your clothing less often. Added leather strips and a gusseted underarm reduce stress and allow greater range of motion in leather welding jackets. All Black Stallion welding jackets now come with a stand-up welder's collar that protects your neck from sparks without being restrictive or stiff. Shop BSX® and AngelFire® welding jackets for spacious inner pockets or see the DURALite™ series for premium leather jackets with satin-lined shoulders. And the innovations don't end there - see Revco Black Stallion gloves for more durable, comfortable designs.
Free Shipping Within The Continental US on Orders Over $300
If the jacket you're interested in costs less than $300, you might want to keep shopping. Maybe add a consumables kit to the shopping cart, or splurge on a new Hypertherm plasma cutter, or even one of our badass welding caps. Whatever you can do to bring your total over $300, do it and take advantage of our free shipping.
Shop Welders Supply for the lowest online prices on outstanding welding apparel and clothing.