Welding Jackets and Coats
Welding Jackets from Miller and J Tillman Assure Safe Welding
Miller and J Tillman welding jackets and coats guarantee safety on any work site. Professional welders use these outstanding products because they are the proper material and flame resistant protective attire to safely handle any welding project. Welders Supply can assure these jackets meet all OSHA welding clothing requirements and standards.
Welders Supply offers a dozen different welding jackets, all with different styles and designs to perfectly match your welding needs. They are available in many different sizes to offer a nice fit but with plenty of flexibility. Safety is always more important than style, but there's nothing wrong with looking good while you're staying safe.
Miller Provides Wide Array of Top-Quality Welding Jackets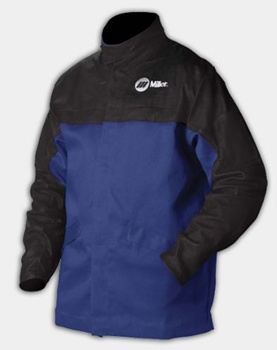 The Miller WeldX Jacket combines a seven-ounce front and sleeves with a nine-ounce Navy cotton back which is flame resistant. It provides optimal protection for any professional welder. The leather is durable while the cotton cloth is lightweight and breathable. The result is maximum protection and optimal comfort. The preshrunk fabric assures the jacket will always stay the same size. Hopefully, you will, too!
Other excellent Miller welding jackets include the Miller Indura Cloth Welding Jacket (guaranteed flame resistant for its entire life) and the Miller Leather Welding Jacket (totally practical as well as attractive).
J Tillman Welding Jackets Are Comfortable and Long-Lasting
The J Tillman line of welding jackets is made of nine-ounce Westex Proban FR7A flame resistant cotton fabric. Three styles feature three popular mottos: "Backbone of America," "Weld or Die" and "Weld. Work. Win." Each is cool, comfortable and long-lasting – maintaining its flame resistance for up to 50 home or 25 commercial washings.
Tillman Leather Welding Jackets feature sleeves specially made with tanned slit side cowhide sewn with long-lasting Kevlar. The Tillman Firestop Jacket is a top-quality product offering excellent protection. The Tillman "Freedom Flex" Welding Jacket is the ultimate in protection, quality and comfort.
Contact Welder Supply today for the lowest online prices on outstanding welding apparel and clothing.