Welding Equipment and Supplies Online
Welding Supplies, Welding Equipment, Welding Machines
If you loved the Powermax 45, the sparks are really going to fly when you check out its successor. More power, more versatility and more innovation. And, yes, we have them in stock, at the best prices online and ready to ship the day you place your order. Welders Supply is your choice for all Hypertherm Powermax plasma cutters, torches and accessories.
Not sure what kind of plasma cutters are perfect for the job? Check out the differences between Hypertherm Powermax 45 vs 45xp.
Hypertherm Powermax 30 AIR - Built in Compressor

The Hypertherm Powermax 30 AIR shipment has arrived! The best plasma cutter on the market with a built in air compressor! We can ship out SAME DAY with orders before 3PM CST. We have it on sale at the BEST PRICE, and WE HAVE THEM IN STOCK!
Millermatic 211 Auto-Set 110/220 Volt MIG Welder

The Millermatic 211 Auto-Set MIG Welder is Miller's most versatile single-phase MIG welder, and it just got upgraded. This machine is 3" shorter, half the weight it used to be (38 lbs. down from 74 lbs.). Even better, the 211 detects the Miller Spoolmate 100 or Spoolmate 150, and automatically adjusts its settings to configure for optimal cutting. Protect your machine with a Miller 211 cover. For more information, look to the manual to find out more about the 211's capabilities.
Millermatic 252 Wire Welder 208/230 Volt
The new and improved Millermatic 252 wire welder has the highest output in its class. It has a built-in compartment for consumables and parameters charts so you can choose the right parts. Read the manual and specs to see what all comes along with the 252, and make sure this machine is right for you.
While supplies last, you get a FREE HELMET with a 252 purchase. Plus, check out our Miller M-25 MIG gun replacement with a 15 ft reach and nearly indestructible handle.
Miller Bobcat 250 with EFI AC/DC Engine Drive Welder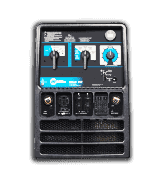 The Miller Bobcat 250 gets better performance and is more efficient than its competitors. We have the EFI (electronic fuel injection) to thank for that, giving 27% better fuel economy. Review the specs. Read the manual. Miller also offers a heavy duty torch outfit, which includes a straight cutting torch, friction lighter, twin hose, acetylene cutting tip, acetylene and oxygen regulators, tip cleaner, torch-mounted flashback arrestors, safety glasses, and an operators manual.
Miller Multimatic 200 115/230 50/60HZ

The Miller Multimatic 200 is the only all-in-one portable multiprocess welder, making it the most versatile welder on the market. Combine the 200 with a Miller Spoolmate 100 for even more versatility, allowing you to weld ¼" aluminum using 4043 aluminum wire. Read the manual to find out more, or check out the specs on this powerful and portable tool. Welding has never been easier than with the Multimatic 200.
NEW Hypertherm Powermax 30xp Plasma System

The Hypertherm Powermax 30xp plasma cutter just got better. Its new incarnation delivers a 50% increase in cutting power and speed, and at only 12" tall, 6.6" wide, and 21 lbs, this machine is super portable. Protect your machine with a Hypertherm cover. Read the manual and compare other plasma cutters. When you use the new and improved Powermax 30xp, you'll see and feel the difference.
Not sure what kind of plasma cutters you need? Check out our Hypertherm Powermax 30 Air vs 30xp comparison.
Miller Bobcat 250 AC/DC Engine Drive Welder

The industry's most popular welding machine is the Miller Bobcat 250. Its AC/DC hookups allow it to weld smoothly using any metals. It's also powerful enough to compete for big jobs with plasma cutters. Protect your investment with a Miller protective cover to put over your machine when the job is finished. Read the Bobcat 250 manual to find out if this is the right machine for you. Try the new Bobcat 250 from Miller and Welders Supply today.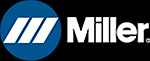 Miller Welding Supplies:
Check out all our low prices and save money with FREE shipping! Products are in stock for immediate shipment.
Supplying:
Military
Welders Supply Company is an experienced supplier to the US Military.
Welders Supply Company is an experienced supplier to the US Military.
Government
We supply municipalities and government agencies with the tools they need to get real work done.
We supply municipalities and government agencies with the tools they need to get real work done.
We are registered with the CCR as CAGE CODE: 0FG64
We are happy to BID on any Military and Government Bid Opportunities for Welders, Plasma Cutters, Torch Kits, and Auto Darkening Helmets.
Education
*Call for pricing
Call for pricing if you are buying for a qualified educational institution. Miller, Hypertherm and Victor (Thermal Dynamics, Tweco, Thermal Arc, ESAB) offer very nice discounts.
Call for pricing if you are buying for a qualified educational institution. Miller, Hypertherm and Victor (Thermal Dynamics, Tweco, Thermal Arc, ESAB) offer very nice discounts.
Your Garage
Beginners
Professionals
Handymen
Small businesses and people like you are the backbone of the Welders Supply Company.
Small businesses and people like you are the backbone of the Welders Supply Company.
Since 1938, we have represented quality manufacturers of industrial and medical gases, welding equipment and supplies in Southern Wisconsin and Northern Illinois.
We offer same day deliveries to:
Welders Supply sells and rents gas tanks and cylinders, and provides exchange refills to many communities including Racine WI, Kenosha WI, West Bend WI, DeKalb IL, and Waukegan IL.
Coupled with the dependable supply of vetted products, as fellow welders we provide courteous and supportive services to assist our customers in the efficient application of the products. Our reputation has grown as a supplier with integrity in relationships with customers.
Welders Supply Company for new and used welding machines, plasma cutters, and welding safety equipment online. Call 1-844-682-0205.
---
Welding Manufacturer's SPOTLIGHT:
3M™ Speedglas­™ Welding Helmet Spotlight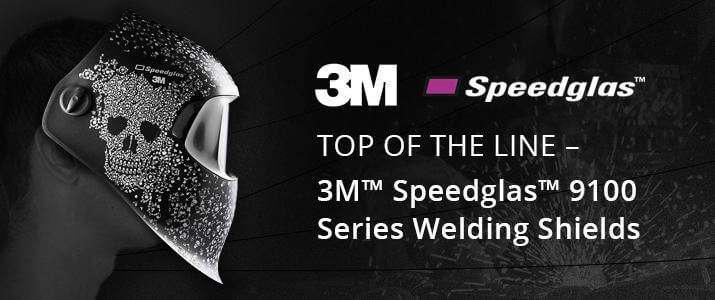 3M Speedglas Welding Helmet 9100, with Welding Filter Kit 9100Xxi (Part#06-0100-30iSW)
3M Adflo PAPR with 3M Speedglas Welding Helmet 9100-Air, HE Filter, Li Ion Batt, ADF 9100XXi, 1/C (Part#35-1101-30iSW)
The new auto-darkening filter kit for the 3M Speedglas Welding Helmet Series 9100 is your window to a new world of more realistic color and detail – to help you weld, grind and see your finish. With improvements based on input from master welders around the world, the 3M Speedglas Welding Filter 9100XXi sets a new standard for visibility, convenience and ease of use.
---
HMD904 with Swivel Base Spotlight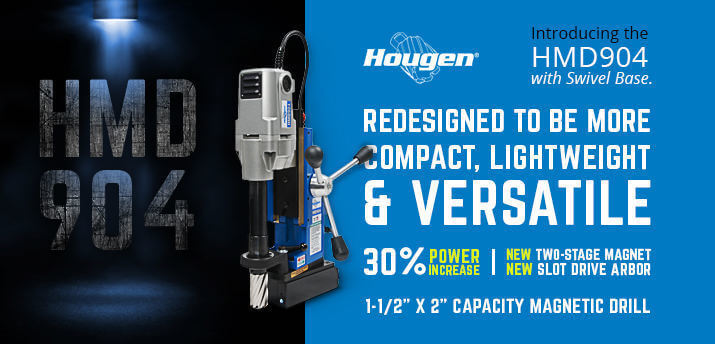 This large (1-1/2" x 2" capacity) magnetic drill packs a powerful punch, and it's compact, lightweight, and versatile. Hougen introduces the HMD904 with Swivel Base.
Redesigned to be better than ever! Work in low light or no light with the NEW pilot light. Enjoy a 30% power increase thanks to the NEW two-stage magnet. Increase your accuracy with the NEW Slot Drive arbor. The housing is all NEW and stronger. The patented Swivel Base is precise, easy to lock and unlock, and great for horizontal, overhead, tight areas and getting out over another piece of steel.
Accessories available to purchase alongside the Hougen HMD904 are the 1" Cutter Kit, 2" Cutter Kit, Rotafoam Cutting Fluid, and Rotacut Kit.
---
Millermatic 141 Welder Spotlight
The Millermatic 141 replaces the Millermatic 140, and the Millermatic 190 replaces the Millermatic 180. They are lower profile, lighter weight and have a new angled drive system to allow for easier wire feeding and better gun liner life. They still have the other features that made the 140 and 180 the best-selling mig welders in the world, like the AUTOSET feature.
Dial in the wire size and the thickness of the material, and your machine is SET! Perfect for the new welder or welder who doesn't do it everyday.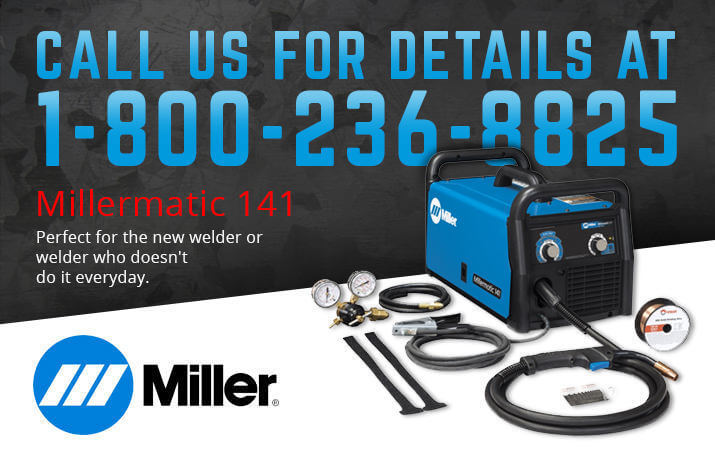 ---
Student Rebates
Within 60 days of purchase on select systems (POWERMAX 30, POWERMAX 45, POWERMAX 65, POWERMAX 85, POWERMAX 105), the qualified student or grad can send in a completed REBATE FORM with the system invoice and proof of attendance or graduation directly to Hypertherm.
Rebate amounts (supplied as $100 VISA cards) vary by the system:
WOW! It really does pay to go school!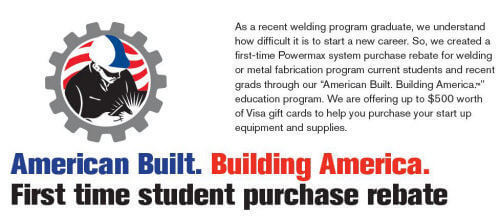 ---
Thermal Arc Fabricator 186 AC/DC Welder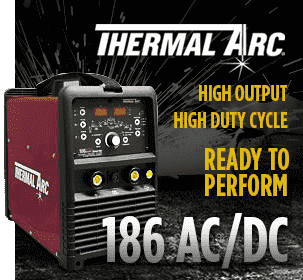 This is one HOT selling machine with the latest AC/DC Inverter tig technology. It's the Complete Package!!! People have been asking about this machine, and it's finally here, in stock, ready to ship.
A high output, high duty cycle, adjustable AC wave frequency, Inverter AC/DC tig welder you can afford! Welders Supply Company is proud to present the Thermal Arc Fabricator 186!
The 186 AC/DC is a fully featured, professional performance machine that has been made easy to use with integrated controls and a simple to use set up chart. Featuring three process capabilities (HF TIG, LIFT TIG, and STICK solutions with AC and DC output), this machine has the power you need. Our package is in stock for immediate shipping and includes:
186I power source
Foot pedal
Tig torch
Regulator
Ground clamp
Electrode holder
View the Thermal Arc 186 Welder.
Looking for a deal on the Victor Journeyman and Performer outfits? We made a special buy and our prices are the lowest on the WEB. Check out the DELUXE JOURNEYMAN KIT Part# 0384-2036 with FREE DELIVERY!! WOW!! The Victor medium duty PERFORMER torch kit Part# 0384-2045.
WE OFFER FREE FREIGHT to the lower 48 states for Orders over $300. Under $300 shipping is just $15.
Thank you to the thousands of customers who have helped us grow.
---
Welding Equipment Spotlight
---
Miller announces an Engine Drive Game Changer!
The Bobcat 250 Welder has been totally redesigned to offer you HUGE IMPROVEMENTS!
IMPROVED! Quieter and Better Sound

Significant improvements in sound level and quality offer better jobsite communication, which provides a safer, more efficient working environment for you and your crew. New Bobcat welder/generators have rotated the engine toward the front to create more efficient airflow, resulting in significantly quieter operation. Now you can start your job earlier in the day and end it later, as well as work around hospitals, businesses, and residential areas.

IMPROVED! Smaller and Lighter Design

New Bobcat 250 welder/generators take up less space on trucks and trailers—leaving more room on your truck for other equipment and tools. Plus, the Bobcat 250 welder is easier to move safely around jobsites—even with weld cables and running gear attached.
IMPROVED! Easier Maintenance
With its intuitive design, the daily maintenance of our new Bobcat welder/ generators is faster and easier. With front panel maintenance displays, you know when your equipment needs to be serviced. And servicing is simple:
Oil checks can be performed from the top by the front panel
Toolless panels allow for quick access
Single-side fuel fill and oil drain/filter
Electronic Fuel Injection (EFI) Option
EFI gas engines optimize the air/fuel ratio for all engine speeds and engine loads, resulting in lower operational costs, fewer emissions, longer runtimes and better performance when compared to carbureted models. The payback from fuel savings alone is a matter of months. EFI will give you: 27% Better Fuel Economy saving many users up to $1,000 per year in fuel!
Extend runtimes by as much as 27%
Fast
No choke
Easy starts in all climates
Reliable operation, even with infrequent use
Less prone to fuel deterioration
More generator power (12,000 Watts of generator Power!)
Go Green with Reduced Emissions, 27% less CO and 33% less HC+NOx levels. Now is the time to UPGRADE to the BOBCAT 250! Welders Supply has the BEST PRICING ONLINE, ON THE WEB, IN THE WORLD on Miller Welding Equipment! Call to see if your order qualifies for FREE FREIGHT! 1-844-682-0205
Contact Wisconsin Welders Supply Company
For all your welding supply needs from plasma cutters to auto darkening helmets, choose Welders Supply Company and get the best prices on welding equipment. We sell gases:
Welders Supply Company for welding machines, plasma cutters, and welding safety equipment online. Call 1-844-682-0205.