Welding Safety Equipment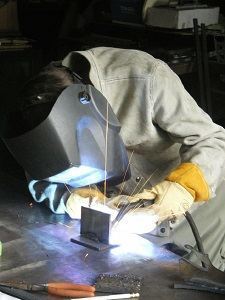 Welders Supply Company offers a vast inventory of name brand welding safety equipment and electrical safety equipment successfully protecting welding professionals for generations. We offer cost-effective pricing on quality welding safety equipment for head to toe protection, from ear plugs and auto darkening welding helmets to leather welding gloves, bib aprons, and chaps. Our welding safety equipment inventory offers an extensive line of lightweight head protection, including respirators, welding caps, welding safety glasses, and auto darkening welding helmets. Check back often for additional savings on used welding equipment and other welding supplies featured in our Deal of the Day.
Personal Protection Equipment for All Weather
No matter the temperature where you work, Welders Supply Company has a variety of PPE safety gear available. We only sell equipment from industry leaders such as Tillman and Miller. From warm weather to the cold winter months, our products have you covered. Our leather jackets and coats to our protective sleeves and pants will guarantee your safety on any work site. Make sure you have the proper material and flame resistant protective attire when it comes to completing any job safely. Employers, be sure your supplies offer will meet all OSHA welding clothing requirements and standards.
For quality, cost-effective welding safety equipment and electrical safety equipment, visit Welders Supply Company online. For quality assistance with your welding supplies or plasma cutting equipment questions, call Welders Supply Company at 1.800.236.8825.