Below, you'll find some of our used welding equipment inventory. There's more available at our 5 storefront locations in Wisconsin and Illinois. Most customers who read this page ultimately decide to buy new. Probably because our prices are so great. Shop plasma cutters, welding machines and welding helmets to see for yourself.
Showing 12 of 12 results

SORT BY
Used Welders and Equipment
Welders Supply Company offers Used and Reconditioned Equipment to fit your budget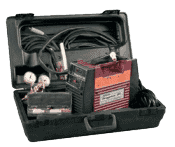 Welders Supply Company sells a wide variety of reconditioned and used welding machines and welding equipment offering like-new performance for basement bargain prices. Our used welding equipment inventory features the name brand welding machines and plasma cutting equipment serving any welding job, including Linde Tig welding machines, Hypertherm 600 plasma cutters, Miller control feeders, and much more. From professional welders looking to save money on welding equipment to auto mechanics making the occasional weld, Welders Supply Company's used welding equipment seals the job. Check out our Deal of the Day/Specials for additional ways Welders Supply Company will save you money.
Every professional welder knows lower costs lead to higher profits. You can always make more money by being more productive. But don't overlook your wonderful opportunity to be more profitable by securing topnotch used welding equipment. This equipment will do the jobs you need done. Welders Supply regularly has a large inventory of used welding machines, used welding helmets, used welding tanks, used welding fume extractors and much more. This pre-owned equipment is carefully inspected to assure its quality, and it is also carefully priced to give you maximum value in today's super-competitive welding market.
Used Welding Machines offer like-new performance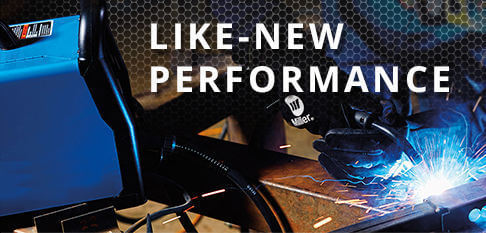 Look at it this way. Every piece of welding equipment you own is used. It became "used" immediately after you received it. Most of the equipment you have now is expected to last for a long time. It's the same way you should look at this huge inventory of used welding equipment. It's been reconditioned by our expert welding repair specialists. Much of it has been restored to like-new condition. Even though it is not new, most of this equipment performs like it is. Purchasing it is not only a good value. It is a sound investment. The low initial cost will translate into far more profit down the road. The profit will come much more quickly since the machine will pay for itself many times over – and soon!
Used Welding Equipment Can Increase Your Profitability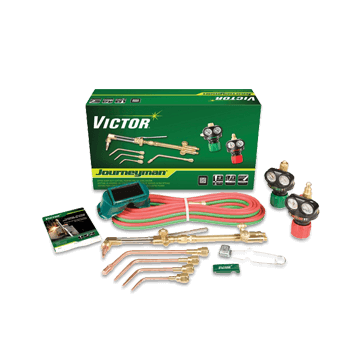 Used and reconditioned welding machines and other equipment from Welders Supply is perfect for the welding student or the new welding shop. Here's a low-cost way to fully equip your entire operation. If you have the same problem as most fast-growing new businesses, you need to preserve capital in order to grow. Cash is king every day. With used welding equipment from Welders Supply, you can preserve capital while multiplying your capacity for growth. It's a win-win proposition. This equipment will deliver precisely the same results as many brand-new products. Why pay more, especially when you need to secure more profitability right now? Look over this array of profit-generating possibilities. There's a lot of value here just waiting for you to discover it.
Check Often To Get The Best Used Welding Products
Check this website often because good used equipment turns over fast here. Our welding professionals make sure the pre-owned products we offer are in great condition. They also carefully maintain them and carefully ship them out. The traffic in and out is pretty heavy, but careful attention is paid to each order. The customer service provided is the same high quality you've come to expect from the welding experts at Welders Supply.
Used Welding Equipment Made By The Best Companies
We only carry the best welding equipment from the finest suppliers like Miller, Hypertherm, Victor Technologies and more. The reason we do so is because we know their products will last long and work well. When their products come to us pre-owned, we know the used equipment can and will keep performing well. Consistent quality is essential in the welding industry. This used welding equipment – the used helmets (just as safe as ever!), the used welding tanks (how can you wear out a welding tank!), used fume extractors (if you don't have one, get one!). There are good uses for all of this good equipment.
For quality, cost-effective reconditioned and used welding machines and plasma cutting equipment, visit Welders Supply Company online or for professional assistance with your welding machines or plasma cutting machines and equipment questions, call Welders Supply Company at 1.800.236.8825.