Kromer
Our most popular Kromer cap is the:
Kromer Welding Caps Are Safe And Fun
Kromer Welding Caps Feature Sturdy Construction and Creative Designs
Kromer caps have been around for over a hundred years. Each is meticulously constructed and individually inspected. These are all-cotton balloon top caps with tough double-stitching. The caps last a long time and take a lot of abuse. There is a cotton sweat band which is super absorbent. Kromer caps are comfortable, durable and washable. Sizes range from 6-7/8 to 7-1/8. For an entire century, Kromer caps have been an integral part of America's industries.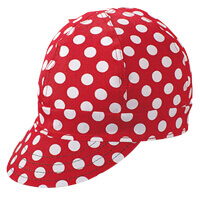 Kromer's Welding Caps fit right in with the rest of their product line. They are tough, attractive and are available in over thirty varieties – polka dots to patriotism, flags to flowers or camo to crazy! The sweat band comes in handy because it's less likely for the pretty design to be bleached out when you sweat a lot. The cap will keep the sweat out of your eyes so you can see clearly but even a lot of sweat won't ruin the cap.
Big Selection of Kromer Welding Caps
Several Kromer caps come in nice, bright but boring solid colors. They're very attractive -- and dull: black, white, blue and red. The patriotic red-white-and-blue flag hats are better – all eight of them! Then there are the wonderful polka dot hats. Would you believe six different polka dot patterns? Want 'em? Welders Supply has got 'em! A Kromer welding cap will make your head look better even if there's no hair on it!
Welding usually involves a whole bunch of work which has to be done the same way all the time. Many work days are all the same. Why not buy some Kromer Caps to add variety and fun? Go ahead! Have some fun! It's legal!
Contact Welders supply today for great Kromer Welding Caps or other great welding equipment, welding apparel, and welding helmets so you can wear the best and pay the least!