Best CNC Plasma Cutters
All plasma cutting machines below can integrate with CNC machines via CPC or serial connection ports. CNC plasma cutting produces parts with unmatched precision, accuracy and speed.
CNC Plasma Cutting Machines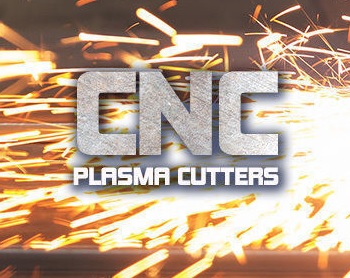 CNC (Computer Numerical Control) plasma systems differ from hand-held plasma cutters in that they use a straight barreled torch held by a machine and have an interface that allows the torch to be automatically controlled by a computer. Because the torch used by a CNC plasma cutter is controlled by a machine, it is known as a mechanized torch or a mechanical torch.

A CNC plasma cutting system consists of a specialized controller designed for machine tools, although the controller could also be as simple as a Windows based laptop running software that allows it to communicate with the machine through an Ethernet port. Entry level CNC machines and HVAC machines typically use a laptop or desktop computer as a controller.

Along with a controller, CNC plasma cutting systems need a drive system consisting of at least two motors (for the X and Y axis). When programmed, the controller automates the cutting work. Because the controller and computer are constantly measuring and updating positioning information, the machine produces cut parts with an exceptionally high degree of accuracy.
Hypertherm CNC Plasma Cutters
The Hypertherm Powermax 65 SYNC, 85 SYNC and 105 SYNC with machine torch can all be used for CNC plasma cutting, as well as the Powermax 45XP. Welders Supply also carries the Hypertherm Powermax accessories & consumables.
Video: Powermax SYNC Mechanized Integration
Lowest Online Prices and Free Shipping on Orders Over $300
Shop around if you want, but Welders Supply has the best prices on Hypertherm Powermax CNC plasma cutting machines. Plus, you get free shipping within the continental US on any order over $300.