Our more popular ESAB welding supplies include:
Victor and ESAB Combine For Best Products and Service
Victor Technologies leads the world in cutting edge solutions for professional cutting, welding and gas control. Now Victor is even better, so Welders Supply is offering you even better deals. In 2014, Colfax Corporation completed its purchase of Victor Technologies. They combined it with Colfax's existing (and outstanding) ESAB product line. Both the Victor and ESAB brands remain intact and reach an even larger global market.
Victor and ESAB worldwide customer service and product development are unparalleled. They lead the world in technological development. Victor has over 350 U.S. and foreign patents -- issued or pending. The combination of Victor Technologies and ESAB makes them the recognized world leaders.
Now, the welding and cutting solution you need is available from one manufacturing source. These high-performing welding and cutting solutions are also available from one distribution source, your low-priced online welding professionals at Welders Supply.
In 2014, Colfax Corporation purchased Victor Technologies and combined it with the outstanding ESAB product line. Both the ESAB and Victor brands remained intact. The two companies deliver unexceeded worldwide customer service, leading the world in technological development.
ESAB is a world's leading manufacturer of standard welding equipment, consumables and automation equipment as well as cutting machines and systems. The company provides cutting equipment -- everything from small handheld plasma units to huge gantry cutters used to build aircraft carriers. Among the industries ESAB serves are: automotive, general fabrication & civil construction, pipelines, pipe mills and power generation. Additional industries are the process industry, repair & maintenance, shipbuilding & offshore as well as transport & mobile machinery.
Welders Supply is extremely proud to be your low-priced online source for their outstanding products and supplies.
Welding Consumables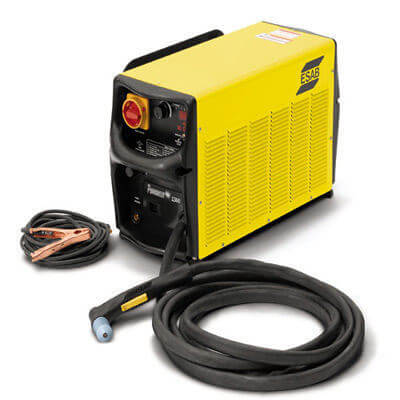 ESAB is a world-leading manufacturer of welding consumables. Their products cover all types of welding -- solid wires, covered electrodes, cored wires, TIG rods, solid wires, strips and fluxes. The quality of these products is uniformly high – durable, peak performing and cost effective.
Arc Welding Equipment
Arc Welding equipment from ESAB has long set the world standard for excellent design. The company's products include MIG equipment (CV), TIG equipment (CC), MMA equipment (CC), multi-process equipment (CV/CC), wire feeders and all manner of general supplies & accessories. Each product is long-lasting and manufactured to the highest standards.
Plasma Cutters
Plasma cutting products from ESAB are literally cutting edge. Their top-quality products cover the entire gamut: hand-held and mechanized plasma cutting, many styles of torches and a full range of plasma accessories. Technological breakthroughs are constantly being made to further improve their plasma product line.
Gas Apparatus
ESAB gas apparatus is designed to meet every welding need and to do so in a cost-effective way: outfits, torches, gas controls, cutting tips and the finest array of genuine, specially-designed supplies and accessories.
Welding Automation & Robotics
New technology is no stranger for ESAB. Product offerings include robotics, controllers & power sources, welding tractors, welding heads, and columns & booms. ESAB also offers carriers & gantries, accessory components, handling equipment, along with special application products & processes. When ESAB products are used, the latest designs offer peak performance and accuracy.
CNC Cutting Systems
Computer numerical control (CNC) products from ESAB include cutting machines, CNC controls, CNC technologies, process solutions, CNC software systems with many technology upgrades and specialized Services. ESAB is a world leader in CNC development, offering unsurpassed accuracy for even the highest-volume production.
PPE & Accessories
Personal Protective Equipment (PPE) owes much of its product advancement to the design engineers at ESAB. The company is offering many state-of-the-art products: helmets & head protection, gloves, clothing, eye protection and many different top-quality accessories.
View all of our top quality brands of welding equipment from Miller, Tillman, Hobart and more!