Miller Welding Helmets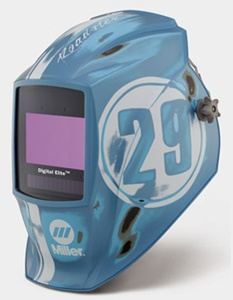 Miller welding helmets are among the best in the business. From the affordable Classic Series models to the Pro Hobby and Performance Series models and their Digital Elite Performance Series line of auto darkening helmets, it's impossible to make a bad choice when you buy a Miller welding helmet.
Miller helmets are at the forefront of safety and performance. Their lenses are among the best in the industry, the well-designed headgear adjusts to fit just about any size head comfortably, and their light weight is always appreciated after a couple of hours on the job. Miller also sets the standard when it comes to incorporating innovative technology into welding hoods—like their Digital Controls for easy adjustment of mode and settings and InfoTrack, which allows the lens to track arc time and display it on an easy to read digital clock display.
To all this Miller adds some of the most incredible graphics in the industry—hot rod style flames, patriotic themes, camo, tattoo-inspired graphics and much more. With Miller, there's a helmet for every job and a look for every taste. Find yours today at Welders Supply.
Check out our full selection of Miller Safety Equipment for sale online today.