Our more popular multi-process welders and accessories include:
Multi-Process Welders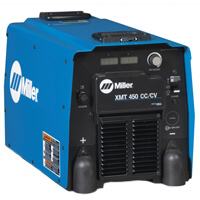 Whether you run a shop or work out of your truck, a multi-process welder offers tremendous versatility for anyone whose work varies from day to day. The multi-process machines we carry let you easily switch between Stick, MIG, TIG and Flux Core.
All the multi-process welders we carry defy the old adage "Jack of all trades, master of none." These machines from Miller, ESAB, Tweco and Thermal Arc have the respect of serious welders in a wide range of businesses. If they didn't, we wouldn't carry them.
The new breed of multi-process welders have evolved to a much smaller footprint than older ones—by as much as 40 percent. They're lighter, too, so you won't feel as though you're lugging around a boat anchor. And these new multi-process welders are built to withstand the dust and dirt of job sites, as well as extremes of hot and cold. Check out the Big Blue 400 Pro (Kubota) with ArcReach for an easy to use, fuel-efficient multiprocess welder.
Click around and you'll see some great incentives on select Miller multi-process welders—like rebates up to $200 and a free helmet and gloves.
Accessories, Consumables and Replacement Parts for Multi-Process Welders--Find Them All at Welders Supply
Looking for a dust cover or a protective case for you welder? Maybe you just need to stock up on consumables? Or perhaps you're looking for another torch? Look no further than Welders Supply. We carry a full range of accessories, parts and consumables for all brands of multi-process welders--at the lowest online prices you'll find anywhere.
Low Prices and Free Shipping to the Lower 48
Since 1938, Welders Supply has been providing welders with high-quality welding equipment at the lowest possible prices. We even offer free shipping on purchases over $300 (within the continental US).