Miller Coolmate™ 3.5 115 V #300245
$1,880.00
You Save
$332.50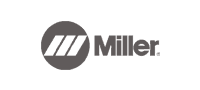 Coolmate™ 3.5 115 V #300245
The Miller Coolmate 3.5 115V cooler works with water-cooled Miller torches rated up to 600A. It has a low profile horizontal design that allows for stacking and easy mounting to a Runner Cart. Welders Supply is the foremost authority on all Miller welding equipment and accessories for sale online. Shop now for great prices and fast shipping on our entire selection of welding supplies.
Compatible Welding Machines for the Coolmate™ 3.5 115 V #300245
The Miller Coolmate 3.5 is designed to work with:
Maxstar 350/700 welding machine
Dynasty 350/700 welding machines
GENERAL SPECIFICATIONS
Title
Coolmate™ 3.5 115 V
Dimensions
H: 11.75 in
W: 15.75 in
D: 26 in
Max Cooling Capacity
4140
Input Voltage
110/115/120 V
Input Phase
1-Phase
Input Hz
50 Hz
Max Current Draw
4.7 A
5.9 A
Rated Cooling Capacity
1660
Tank Capacity
3.5
13.2
Warranty
Miller's True Blue Warranty
SHIPPING DIMENSIONS

Height:
15.00 Inches
Width:
17.00 Inches
Length:
30.00 Inches
Weight:
72 Lb(s) 0 Oz
Product Questions and Answers
How to fill Coolant Level:
Acquire Coolant.

For the Miller Coolmate™ 3.5 115 V the correct coolant is "Low Conductivity Coolant No. 043 810 A 50/50 solution".

Find Tools.

Acquire funnel and gloves in order to safely fill the coolant levels.

Fill Coolant.

Fill the coolant until it is approximately 1" below the filter neck.
Have a question about this product? Submit your question using the form below