Miller SAR 100 ft. Straight Air Hose 270407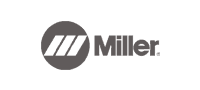 Miller SAR 100 ft. Straight Air Hose 270407
With safety being a top priority, the Miller SAR 100 foot straight air hose is designed for air respiratory systems with 1/4 inch interchange fittings. This hose comes with a 3/8 inch ID (interior diameter) and is designed to fit Miller's C50 air regulator.
Clean air is a must for safety, and it also increases comfort and productivity. Make a difference in your workplace by ordering a Miller SAR 100 foot straight air hose today.
View our complete selection of Miller Welding SAR air hoses, SAR helmets, fume extractors and welding safety gear available online.
Fitting Type
Available Length
Material
Pressure Type
Allowable Connections
Hose Pressure
Industrial Interchange
25 or 100 ft.

Rubber

High

1 hose / 25' -100' length hose

2 hoses / 125' - 200' length hose

3 hoses / 225' - 300' length hose

58 - 61 psi

64 - 68 psi

70 - 76 psi
Product Questions and Answers
---
Q - Does this come in a shorter length?
A - Yes, there's also a 25ft hose (#270405)
Q - What is the hose pressure rating for this?
A - 58 to 61 psi for one hose that 25' to 100' long.
Have a question about this product? Submit your question using the form below