Share

Print
Add

$300.00

worth of items to your cart to qualify for

Hypertherm Consumables: HPR130XD & HPR260XD Mild Steel Nozzle #220182
The #220182 130 Amp Mild Steel Nozzle from Hypertherm is one of the key components Hypertherm's line of mechanized plasma systems. The mild steel patented nozzle is compatible with select plasma systems like the HD and HPR series HyPerformance® plasma systems. These HyPerformance® plasma systems are specifically made for efficiencies in manufacturing environments for all industries, that's why they're designed and constructed for the maximum performance and productivity in x-y, bevel and robotic cutting operations.
The fast cutting speeds, rapid process cycling, quick changeovers, and high reliability gives you unmatched HyPerformance cut quality, all thanks to the performance consumables like the #220182 Nozzles. Finish the project the first time around with this nozzle that is a cut above the rest, with the protection and durability for submerged and air plasma cutting.
Hypertherm Mild Steel Nozzle #220182
Features and Benefits:

Chambered Swirl Ring
Gradually reduces gas pressure at the end of the cut to stabilize the hafnium insert prior to arc termination; this extends nozzle and electrode life.
Coaxial-assist™ Jet
Increases cutting speed and cut quality by extending the tip of the nozzle into the exit of the shield.
Dimpled Electrode
Extends electrode back life by preventing material from blowing on the nozzle when first ignited.
Conical Flow™
Nozzle technology increases arc energy density for superior cut quality with little dross.
LongLife®
Ramps current and gas flow up and down in a tightly controlled manner
to reduce electrode and nozzle erosion.
HyDefinition
Vented nozzle technology aligns and focuses the plasma arc for powerful precision cutting, superior quality, and consistency.
Quality
Made in the USA.
HyPerformance® Mechanized Plasma System Adaptability:
The nozzle can adapt to the following Hypertherm Plasma cutting systems for 130 A only.
HyPerformance® Plasma HPR800XD ®
HyPerformance® Plasma HPR400XD ®
HyPerformance® Plasma HPR260XD ®
HyPerformance® Plasma HPR130XD ®
HyPerformance® Plasma HPR260 ®
HyPerformance® Plasma HPR130 ®
HyPerformance® Plasma HD4070 ®
HyPerformance® Plasma HD3070 ®*
Amperage Range: 130 A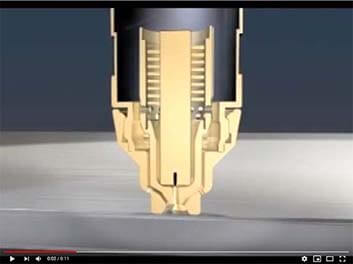 Related Products:
Hypertherm HPR130XD & HPR260XD Consumables Mild Steel Nozzle #220554
Hypertherm HPR130XD & HPR260XD Consumables Mild Steel Nozzle #220188
Hypertherm HPR130XD & HPR260XD Consumables Mild Steel Nozzle #220806
Hypertherm HPR130XD & HPR260XD Consumables Mild Steel Nozzle #220646
Hypertherm HPR130XD & HPR260XD Consumables Mild Steel Shield #220194
Hypertherm Consumables Maintenance
Product Questions and Answers
Have a question about this product? Submit your question using the form below