Hypertherm Accessories
Hypertherm Consumables, Accessories, Safety Equipment, and Other Supplies
Stock up on consumables with a kit or individual replacement parts. Take your plasma cutting to the next level with a circle cutting guide, CPC port, serial interface port (RS-485), air filtration add-on, or wheel kit. Protect yourself with leather cutting gloves and a face shield, and protect your machine with a plasma cutter cover, torch lead cover, and carrying case.
Welders Supply ships Hypertherm equipment and supplies anywhere in the world. Get free shipping to the U.S. (except Alaska and Hawaii) for orders over $300. Buy your Powermax plasma cutters, Duramax torches, and other Hypertherm equipment from the Hypertherm dealer with the best deals online—Welders Supply!
Hypertherm Powermax Accessories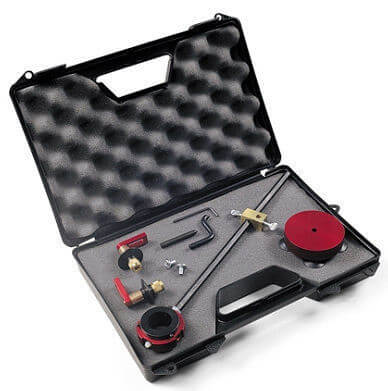 All Hypertherm Accessories are designed to help you improve welding quality and safety. With their system accessories and cutting guides, you can do more and do it more productively.
Hypertherm's high-quality plasma cutting products include air filters, swirl rings, electrodes, nozzles, and fine cut replacement parts. The Hypertherm Deluxe Circle Cutting Kit, Air Filtration Kit and the Nozzle for Unshielded Cutting are perfect examples of the quality accessories available at Welders Supply for virtually all Powermax Plasma Cutting Systems.
Other products include the arc-rated metalworking jersey and a sturdy cutting blanket. Hypertherm personal protective products keep you safe and comfortable. We carry top-quality safety accessories like the Hyamp helmet, face shield, cutting goggles, basic eyewear and flip-up eyeshades, and Durafit cutting gloves with fire resistant goatskin leather and a stretch Nomex® backhand.
Top-Quality Hypertherm Accessories Designed to Keep You Productive
Using genuine parts always improves the performance and durability of Hypertherm products. Keep an ample supply on hand for emergencies, and you'll always be able to do top-quality work and keep each welding project on schedule.
Welders Supply is Your Hypertherm Dealer for Safety Gear, Consumables, and Other Supplies
Welders Supply carries a large inventory of Hypertherm accessories, assuring you of quick access to the parts and consumables you need. You'll find our prices to be the lowest available anywhere on the internet, and all orders over $300 ship free (within the continental US).
Get the best prices on Hypertherm accessories and other quality welding equipment at Welders Supply Company.