Hypertherm HPR260XD Consumables Mild Steel Swirl Ring #220436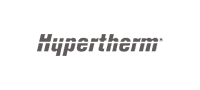 Hypertherm Consumables: HPR260XD Mild Steel Swirl Ring #220436
The Hypertherm HPR260XD Mild Steel Swirl Ring is built to last and manufactured for optimal performance. It is compatible with the HPR260XD and has an amperage range of: 260 A, 260 A Bevel, & 260* A Bevel (Recommended for use if you have excessive slag, or the torch is misfiring when using standard consumables).
Swirl Ring
Compatible with the HPR260XD
Made of Mild Steel
Hypertherm HPR260XD Mild Steel Swirl Ring - #220436
Amperage Range: 200-800 A
Material: Mild Steel
Compatible with the HPR260XD
When to change out your Powermax swirl ring
Product Questions and Answers
---
Q - What is the swirl ring used for?
A - The ring swirls the gasses surrounding the arc, which helps ensure a consistent and more precise cut.
Q - How often should it be replaced?
A - If it appears cracked, deformed, or clogged, it is time for a new one. It should last for at least 15 changes of electrodes and nozzles.
Q - How often should I check the swirl ring?
A - You should check it every time you replace your electrode.
Have a question about this product? Submit your question using the form below