Hypertherm HPR260XD Consumables Mild Steel Water Tube #220571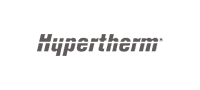 Hypertherm Consumables: HPR260XD Mild Steel Water Tube #220571
Amperage Range:
260 A bevel
260* A bevel (Recommended for use if you have excessive slag, or the torch is misfiring, when using standard consumables)
Compatible with Hypertherm HPR260XD.
HPR260XD Mild Steel Water Tube #220571
Amperage Range: 260 A
Material: Mild Steel
Compatible with the HPR260XD
HPR260XD Compilation
Product Questions and Answers
---
Q - What is the water tube used for?
A - The water tube is essential to proper electrode cooling.
Q - Which systems is this tube used for?
A - This tube is compatible with Hypertherm HPR130XD & HPR260XD.
Q - How often should this water tube be inspected?
A - Whenever you replace the electrode, you should inspect the tube.
Have a question about this product? Submit your question using the form below