Miller XT40, 12Ft Hand Held Torch W/Disconnect #260633 (Replacement)
The Miller XT40, 12 ft Hand Held Torch w/ Disconnect 260633 is a replacement torch for Spectrum 625 X-Treme systems. It features a no-slip grip for maximum control and a trigger guard to prevent accidental arc activation. The 80-degree handle enables a natural arm position while welding, and the exclusive flexible cable increases bend radius and versatility. The robust tip front end design improves control and lengthens the lifespan of consumables, and the new retaining cup design makes changing consumables smoother than ever while providing increased visibility when welding. This torch has a 12-foot cord.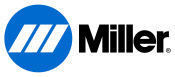 Miller XT40, 12Ft Hand Held Torch W/Disconnect #260633 (Replacement) Specs
Comes with Miller's True Blue Warranty
SHIPPING DIMENSIONS

Height:
3.00 Inches
Width:
20.00 Inches
Length:
19.50 Inches
Weight:
3 Lb(s) 0 Oz
Product Questions and Answers
How to connect 1-phase input power:
Check rating label.

See rating label on unit and check input voltage available at site.

Connect grounding conductor.

Connect green or green/yellow grounding conductor to disconnect device grounding terminal first.

Connect input conductors.

Connect input conductors L1 and L2 to disconnect device line terminals.

Select over-current protection.

Select type and size of over-current protection using Section 5-6.

Secure door.

Close and secure door on disconnect device. Follow established lockout/tagout procedures to put unit in service.
Have a question about this product? Submit your question using the form below
People who bought this product were also interested in: