Weiler 4-1/2" Tiger X Flap Disc, Angled (TY29) 51201 (10 Pk)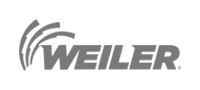 Weiler
Weiler 4-1/2" Tiger X Flap Disc, Angled (TY29), Phenolic Backing, 40Z, 7/8" Arbor Hole 51201 (10 Pk)
Tiger X 4.5 inch conical flap discs are designed for aggressive grinding and long life when used on steel and stainless steel. Tiger X holds nothing back with its industry-first X3 technology that combines an advanced anchoring system, dual flap design and engineered backing. The combination delivers fast grinding AND long disc life for increased productivity.
The type 29 conical disc shape maximizes surface contact when grinding between 15° – 35° for aggressive stock removal on flat surfaces while the 40 grit abrasive grain is best for edge beveling, chamfering, weld grinding, and blending with a right angle grinder.
Tiger X flap disc raises the bar for those who are driven to get the job done right and done fast.
Features and Benefits
X3 Technology grain anchoring system, dual flap design and engineered backing
Maximize productivity and minimize operating costs
Combination of Cotton and Poly Cotton backings to provide consistant grinding without glazing
Material Application
Compatible Tool
Product Questions and Answers
Have a question about this product? Submit your question using the form below