Abrasives
Our most popular abrasives include:
Abrasives For Every Application
Welders Supply stocks a broad range of abrasives for virtually every industrial or home application. While welders typically use abrasives for smoothing welds, these products have numerous uses beyond welding. All products are top-quality, real world proven or we wouldn't offer them for sale here.
Carbide Burrs
Carbide burrs are commonly used by welders for deburring metal on molds and smoothing welds. Carbide burrs are also used by mechanics for cylinder head porting and tire repair, Woodworkers and sculptors use carbide burrs, as well. And many farriers and equine dentists use them in caring for horse hooves and teeth.
Coated Abrasives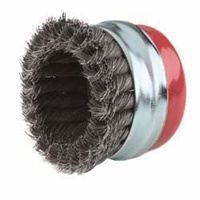 Welders Supply offers a broad range of fiber-backed aluminum oxide and zirconium disks. These are suitable for general purpose use on a broad range of ferrous metals, and are typically used for sanding and smoothing welds. We offer these in a wide range of sizes and grits.
Grinding wheels
Whether your daily grind involves cutting rebar or reshaping gear teeth on a massive scale, Welders Supply has the grinding wheels to help make your work perfect. Choose from Walter, Metabo and Norton.
Wire brushes
When you need to clean out rust, remove paint, deburr metal edges or even clean the teeth of crocodiles or other large animals, nothing beats wire brush. (Incidentally, we have no idea why anyone would clean a crocodile's teeth, but these brushes ought to leave them gleaming.) We offer Norton wire wheel brushes in twist knot, stringer bead and cup brush models, as well as Pferd Milwaukee hand brushes.
About us
Welders Supply offers a complete line of welding machines, plasma cutters and welding accessories for the professional and the hobbyist. We offer some of the best prices you'll find online and free shipping on many items. If you have any questions about a product, feel free to contact us online or at 1-844-682-0205. We're here to help.