Hypertherm Powermax 45 Cover #127219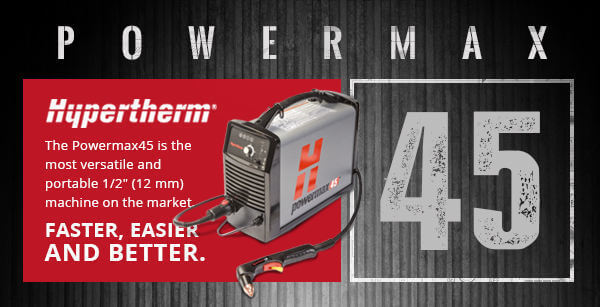 Dust is constant in a busy work environment. It's why a productive shop is generally a clean, neat one. Your Powermax 45 (Or Powermax 45 XP) plasma cutter is the same. If you keep it clean, it will perform better for a longer time. A plasma cutter gets dirty just like every piece of equipment. Worse yet, fine particles of dust and dirt work their way inside the cutter. Over time, an accumulation of dust and dirt can affect the inner workings, reducing its effectiveness and potentially shortening its usable life.
Don't let so much dust settle on a machine that generates so much money for you. Protect your unit by keeping it clean and dust-free with a cover. Made from a durable denier fabric with a polyurethane coating, this dust cover will protect your Powermax plasma cutter for years. Consider a Hypertherm Powermax 45 Cover as an investment – and a very inexpensive one – to protect your much greater investment in a Powermax 45.
The Ideal Environment to Prolong the Life of Your Investments
In addition to pairing your Hypertherm system with Hypertherm consumables for maximum effectiveness, your work environment plays a factor in prolonging the life of these products. Working with or storing products in an environment containing water or oil in the air will decrease the life of your consumables. The best practice is to work with and store consumables in a dry environment and use an air compressor to minimize moisture.
The Hypertherm Powermax 45 Cover will
Block out dust and moisture
protect and prolong your plasma cutter
Product Questions and Answers
---
Q - Is this flame-retardant?
A - Yes, it is made from flame-retardant vinyl.
Q - Does this fit any other plasma cutters?
A - While it may fit over some other plasma cutters, it is designed for the Powermax 45.
Q - How long will this cover last?
A - Every shop and location is different, which makes predictions difficult, however, it is made from very durable fabric with a polyurethane coating giving you years of use.
Have a question about this product? Submit your question using the form below
People who bought this product were also interested in: