Norton NorZon Plus Rightcut Cut-Off Wheel Pkg 25 #66252900652
Product Number:
66252900652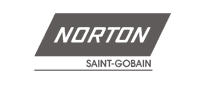 Norton NorZon Plus Rightcut Cut-Off Wheel #66252900652
Heavy duty for the best possible quality of work while being as cost effective as possible is what had Norton place the NorZon 66252900652 in its "Best" tier of products. Constructed of self-sharpening zirconia alumina/ceramic alumina this 04/41 shaped wheel is rated as spinning at over 8,600 RPMs when attached to a right angled grinder. And as such is more than capable of slicing perfectly through steel and other metals straight. With the addition of 25 of these 7 inch in diameter by 1/16 inch thick wheels and their 7/8 inch hub available to you with the purchase of this item here at The Welder Supply Company you will be able to take your work to the next level while being relieved that a simple replacement is available to you when the wheel dulls or becomes damaged over time and use.
View literature of this product:
Product Questions and Answers
Have a question about this product? Submit your question using the form below