Kromer Welding Cap #A339
Like so many who have grown tired of boring black welding caps, you've been searching high and low for an American welding cap with a colorful daisy design. Well, brothers and sisters, allow us to make your dreams come true! Welders Supply proudly carries the full line of American-made Kromer welding caps, including this little mindblower. For those not familiar with the backstory on Kromer American welding caps, a little history is in order: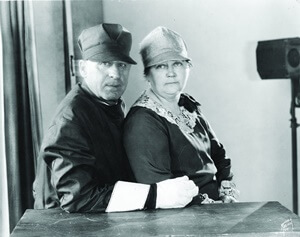 Way back in 1903, Wisconsin railroad man George Kromer set about perfecting the railroad man's hat. With his wife Ida's help, they developed the now classic railroad hat. Flash forward a hundred or so years and, by golly, Kromer hats are still in business making all kinds of hats—not in some factory in China, but here in America! Continuing the Kromer tradition, every American-made welding cap they produce is individually inspected to ensure it's worthy of the Kromer name and your noggin.
Made of 100% cotton with durable double-stitch construction and a soft, absorbent cotton sweatband, this Kromer floral American welding cap performs as good as it looks. Now, we realize it takes a man with supreme confidence in his masculinity to don a flowery design like this. It takes a strong, awe-inspiring man with a keen eye for color and style. Yes, it takes a man like you!
Of course, if you're a lady welder eyeing this beautiful American welding cap, we say "Go for it!" Not only does it look great, the balloon top is perfect for keeping your thick, lustrous hair out of harm's way. It's also easy to pull down over your ears for extra protection against flying sparks and hot slag.
See our entire inventory of Safety Equipment for sale online today.
**PLEASE NOTE**
Due to popularity of this product, not all designs and sizes of the Kromer Cap are available. Please allow 4-6 weeks for delivery.
Kromer Welding Cap Sizing Chart
The Kromer American welding cap is individually sized from 6 7/8 through 7 7/8 for a perfect fit. Below you will find a handy sizing chart that converts USA welding cap measurements to both inches and centimeters, among others.
Finding the correct hat measurement requires proper measurement of your head. Take a tape measure or tailor's tape and wind it around your head at the point where the band of a hat would fit. Make sure the tape is flush on your head and not twisted. You can also wind string around your head and then measure its length to find your head size.
Note: The Kromer American welding cap is intended to be worn under a welding hood, not in place of one.
| | | | | | |
| --- | --- | --- | --- | --- | --- |
| Inches | USA Size | English Size | French Size | Centimeters | S/M/L |
| 19.52 | 6 1/4 | 6 1/8 | 1 1/2 | 50 | Child |
| 19.91 | 6 3/8 | 6 1/4 | 2 | 51 | Child |
| 20.30 | 6 1/2 | 6 3/8 | 2 1/2 | 52 | XS |
| 20.70 | 6 5/8 | 6 1/2 | 3 | 53 | XS |
| 21.09 | 6 3/4 | 6 5/8 | 3 1/2 | 54 | S |
| 21.48 | 6 7/8 | 6 3/4 | 4 | 55 | S |
| 21.88 | 7 | 6 7/8 | 4 1/2 | 56 | M |
| 22.27 | 7 1/8 | 7 | 5 | 57 | M |
| 22.66 | 7 1/4 | 7 1/8 | 5 1/2 | 58 | L |
| 23.05 | 7 3/8 | 7 1/4 | 6 | 59 | L |
| 23.45 | 7 1/2 | 7 3/8 | 6 1/2 | 60 | XL |
| 23.84 | 7 5/8 | 7 1/2 | 7 | 61 | XL |
| 24.23 | 7 3/4 | 7 5/8 | 7 1/2 | 62 | XXL |
| 24.62 | 7 7/8 | 7 3/4 | 8 | 63 | XXL |
| 25.02 | 8 | 7 7/8 | 8 1/2 | 64 | XXXL |
SHIPPING DIMENSIONS

Height:
1.00 Inches
Width:
10.00 Inches
Length:
11.00 Inches
Weight:
0 Lb(s) 4 Oz
Product Questions and Answers
Have a question about this product? Submit your question using the form below
People who bought this product were also interested in: