Kromer Flag-Waving Welding Cap #A355 Is A Grand Old Cap!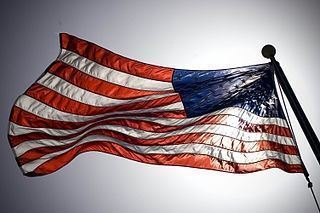 If you're proud to be an American welder (and who isn't!?), the Kromer flag-waving welding cap #A355 from Welders Supply is the one for you. Every single American flag in our nation's history is displayed, and you'll take them all with you on every welding job. They're all displayed on the airy all-cotton balloon top which provides plenty of room (and coolness!). You won't sweat so much and when you do, the cotton sweat band will absorb it. The sweat band will keep perspiration away from your eyes so you can see clearly. How can you not have a banner year in welding when you're a whole hatful of banners like this!
Kromer Flag-Waving Welding Cap #A355 Shows All the Right Colors
The red, white and blue Kromer Flag-Waving Welding Cap #355 features tough double-stitched construction by skilled union craftsmen. Each hat is manufactured right here in the good old USA under the strictest quality control oversight. The caps are all individually inspected so you are assured of the absolute best quality. The caps are washable and long-lasting. Each style is available – including this patriotic flag waving design -- in sizes from 6-7/8 up to 7-7/8. The quality of Kromer welding caps is unquestioned all over the world. It's why welders worldwide wear them. Professional welders here in America will love this one! Order yours today.
See our entire inventory of Safety Equipment for sale online today.
**PLEASE NOTE**
Due to popularity of this product, not all designs and sizes of the Kromer Cap are available. Please allow 4-6 weeks for delivery.
Welding Cap Sizing Chart
Below you will find a handy sizing chart that converts USA welding cap measurements to both inches and centimeters, among others.
Finding the correct measurement requires the proper method of how to measure your head for a hat. Take a tape measure or tailor's tape and wind it around your head. Make sure the tape is flush on your head and isn't twisted. You can also wind string around your head and then measure its length to find your head size.
Note: The Kromer American welding cap is intended to be worn under a welding hood, not in place of one.
| | | | | | |
| --- | --- | --- | --- | --- | --- |
| Inches | USA Size | English Size | French Size | Centimeters | S/M/L |
| 19.52 | 6 1/4 | 6 1/8 | 1 1/2 | 50 | Child |
| 19.91 | 6 3/8 | 6 1/4 | 2 | 51 | Child |
| 20.30 | 6 1/2 | 6 3/8 | 2 1/2 | 52 | XS |
| 20.70 | 6 5/8 | 6 1/2 | 3 | 53 | XS |
| 21.09 | 6 3/4 | 6 5/8 | 3 1/2 | 54 | S |
| 21.48 | 6 7/8 | 6 3/4 | 4 | 55 | S |
| 21.88 | 7 | 6 7/8 | 4 1/2 | 56 | M |
| 22.27 | 7 1/8 | 7 | 5 | 57 | M |
| 22.66 | 7 1/4 | 7 1/8 | 5 1/2 | 58 | L |
| 23.05 | 7 3/8 | 7 1/4 | 6 | 59 | L |
| 23.45 | 7 1/2 | 7 3/8 | 6 1/2 | 60 | XL |
| 23.84 | 7 5/8 | 7 1/2 | 7 | 61 | XL |
| 24.23 | 7 3/4 | 7 5/8 | 7 1/2 | 62 | XXL |
| 24.62 | 7 7/8 | 7 3/4 | 8 | 63 | XXL |
| 25.02 | 8 | 7 7/8 | 8 1/2 | 64 | XXXL |
SHIPPING DIMENSIONS

Height:
1.00 Inches
Width:
10.00 Inches
Length:
11.00 Inches
Weight:
0 Lb(s) 4 Oz
Product Questions and Answers
Have a question about this product? Submit your question using the form below
People who bought this product were also interested in: