Kromer #A358 Stars And Stripes American Welding Cap
It just doesn't get any more All-American than a Kromer stars and stripes pattern cap. Rest assured, there's no "Made In China" sticker here to sour your day. And beyond the patriotic visuals, there's some bona fide American history behind this cap. History worth learning.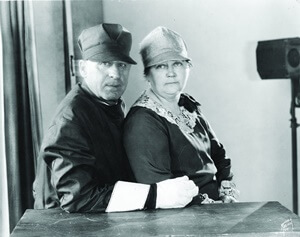 You see, back in 1903, Wisconsin railroad man George Kromer set out to create a hat that would actually stay on his head in bad weather and keep his ears warm. With the help of wife Ida, they developed the classic railroad hat. Today, the Kromer hat company is still harnessing their American ingenuity to create better hats. Case in point: The Kromer American Welding Cap.
Made of 100% cotton with sturdy double-stitch construction and a luxuriously soft cotton sweatband, this Stars and Stripes Kromer welding cap is as well-made as it is good looking. The balloon top design is perfect for pulling down over your ears for better protection against sparks and slag, or for keeping dreadlocks or ponytails out of harm's way. Like all Kromer hats, this American welding cap is made in the U.S.A. by skilled union craftsmen and individually inspected before it leaves the factory to ensure the Kromer name is never sullied by a less than stellar hat.
Comfy as it is, you may just be tempted to wear this Kromer American welding cap on your leisure time. Fishing the local pond, working on the Hog, or just lounging by the grill with a beer, a Kromer welding cap will serve you equally well in these endeavors.
Check out our full selection of Safety Equipment for sale online today.
**PLEASE NOTE**
Due to popularity of this product, not all designs and sizes of the Kromer Cap are available. Please allow 4-6 weeks for delivery.
Kromer American Welding Cap Sizing Chart
The Kromer American welding cap is individually sized from 6 7/8 through 7 7/8 for a perfect fit. Below you will find a handy sizing chart that converts USA welding cap measurements to both inches and centimeters, among others.
Finding the correct hat measurement requires proper measurement of your head. Take a tape measure or tailor's tape and wind it around your head at the point where the band of a hat would fit. Make sure the tape is flush on your head and not twisted. You can also wind string around your head and then measure its length to find your head size.
Note: The Kromer American welding cap is intended to be worn under a welding hood, not in place of one.
| | | | | | |
| --- | --- | --- | --- | --- | --- |
| Inches | USA Size | English Size | French Size | Centimeters | S/M/L |
| 19.52 | 6 1/4 | 6 1/8 | 1 1/2 | 50 | Child |
| 19.91 | 6 3/8 | 6 1/4 | 2 | 51 | Child |
| 20.30 | 6 1/2 | 6 3/8 | 2 1/2 | 52 | XS |
| 20.70 | 6 5/8 | 6 1/2 | 3 | 53 | XS |
| 21.09 | 6 3/4 | 6 5/8 | 3 1/2 | 54 | S |
| 21.48 | 6 7/8 | 6 3/4 | 4 | 55 | S |
| 21.88 | 7 | 6 7/8 | 4 1/2 | 56 | M |
| 22.27 | 7 1/8 | 7 | 5 | 57 | M |
| 22.66 | 7 1/4 | 7 1/8 | 5 1/2 | 58 | L |
| 23.05 | 7 3/8 | 7 1/4 | 6 | 59 | L |
| 23.45 | 7 1/2 | 7 3/8 | 6 1/2 | 60 | XL |
| 23.84 | 7 5/8 | 7 1/2 | 7 | 61 | XL |
| 24.23 | 7 3/4 | 7 5/8 | 7 1/2 | 62 | XXL |
| 24.62 | 7 7/8 | 7 3/4 | 8 | 63 | XXL |
| 25.02 | 8 | 7 7/8 | 8 1/2 | 64 | XXXL |
SHIPPING DIMENSIONS

Height:
1.00 Inches
Width:
10.00 Inches
Length:
11.00 Inches
Weight:
0 Lb(s) 4 Oz
Product Questions and Answers
Have a question about this product? Submit your question using the form below
People who bought this product were also interested in: