Miller Nozzle 1/2" (M-25 & M-40 MIG Guns)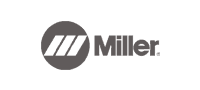 Miller 1/2" Nozzle #169724
Can a new nozzle make you a better welder? Absolutely. Nozzles focus the shielding gas as close as possible to the welding arc to minimize spatter, making it easier to lay down clean welds. If you're currently making do with an old, slag fouled nozzle, you're definitely past due for a replacement.
For optimal welds and a long service life, we recommend using genuine Miller parts--like this forged brass nozzle. One thing to bear in mind: although brass nozzles resist spatter better than copper, they will melt or even burn when exposed to extreme heat. If you will be working with extreme heat, we suggest using a copper nozzle.
This ½" (13mm) Miller nozzle is compatible with most Millermatic 200, 212, 250, 251, 252 and Vintage MIG welders, as well as Miller's M-25 and M-40 MIG guns.
Nozzle Specifications:
Solid brass construction
Contact tip recessed 1/8" (3.2mm) into the nozzle.
For use with M-25 and M-40 MIG guns (standard on most Millermatic 200, 210, 212, 250, 251, 252, 300 and Vintage MIG welders)
Product number stamped into nozzle so there can be no confusion over which model it is
SHIPPING DIMENSIONS

Height:
0.80 Inches
Width:
0.80 Inches
Length:
2.60 Inches
Weight:
0 Lb(s) 3 Oz
Product Questions and Answers
Have a question about this product? Submit your question using the form below