Miller Accessories Enhance Performance
Miller Accessories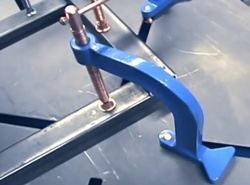 Genuine Miller welding accessories are designed to improve the performance of your equipment. As great as the ArcStation is, a few handy accessories make it even better. A Miller Consumable Kit will keep your equipment running smoothly. Welders Supply is pleased to offer a selection of Miller accessories made to enhance the ArcStation workbench's functionality.
Simple additions like wheel casters, a shelf or a vise kit make your job easier and your work better. Don't overlook a Miller-blue protective cover to keep dust and debris out of your welder. These dependable Miller accessories keep everything right where you need it. With just a few well-chosen accessories, your rig will look as great as your welds.
Popular Miller accessories:
Contact Welders Supply today and get the lowest prices for the world's finest Miller welding products and supplies.