Welders Supply in Beloit, WI
Hours
Mon-Fri: 7am-5pm
Sat: 9am-12pm
Address
111 Barrett Place
Beloit, WI 53511, USA
Preventative Maintenance
Machine Calibration
Vendor Managed Inventory
Gas Deliveries
Equipment Use and Safety Training and Certifications
Have a welding business? Welders Supply can help you cut costs without hurting the top line.
Need Storage Cabinets? Parts Bins? Gas Cylinder storage cages? We've got it!
Welding Equipment - Plasma Cutters, Safety, Power Tools, Gas Cylinders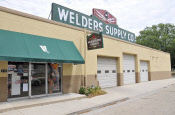 Our main office is in Beloit, WI. Less than a 25-minute drive from Janesville, WI, Welders Supply has everything you need to stock up on welding supplies, including abrasives, apparel, hand tools, welders, storage carts, plasma cutters, power tools, safety equipment, and more!
Buy or rent gas tanks, exchange your empty cylinders for refills, or order a gas delivery from our Beloit store! We're full-service gas cylinder suppliers, and our stores carry a complete selection of pure and mixed gases including:
Call us at 608-365-8825 or call us toll-free 1-800-236-8825 for prices. We serve all of South Central Wisconsin. Whether you're in Delavan, Evansville, Brodhead, Milton, Clinton, or the surrounding area, Welders Supply is worth the visit. We're open from 7:00 am to 5:00 pm during the week and 9:00 am to Noon on Saturday.
Holiday Hours 2019
Please note our locations are closed on December 22nd, December 24th, December 25th, and January 1st.