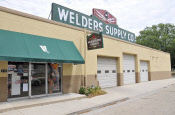 Preventative Maintenance
Machine Calibration
Vendor Managed Inventory
Gas Deliveries
Equipment Use and Safety Training and Certifications
Have a welding business? Welders Supply can help you cut costs without hurting the top line.
Need Storage Cabinets? Parts Bins? Gas Cylinder storage cages? We've got it!
Call us at 608-365-8825 or call us toll-free 1-800-236-8825 for prices. We serve all of South Central Wisconsin. Whether you're in Delavan, Evansville, Brodhead, Milton, Clinton, or the surrounding area, Welders Supply is worth the visit.