Welders Supply in Beloit, WI
Hours
Mon-Fri: 7am-5pm
Sat: 9am-12pm
Address
111 Barrett Place
Beloit, WI 53511, USA
Preventative Maintenance
Machine Calibration
Vendor Managed Inventory
Gas Deliveries
Equipment Use and Safety Training and Certifications
Have a welding business? Need to cut costs without hurting the top line? Let us know.
Need Storage Cabinets? Parts Bins? Gas Cylinder storage cages? Let us know.
Welding Equipment - Plasma Cutters, Safety, Power Tools and More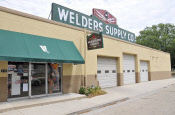 Our main office is in Beloit, WI. Less than a 25 minute drive from Janesville, WI, Welders Supply has everything you need to stock up on welding supplies, including abrasives, apparel, hand tools, welders, gases, plasma cutters, power tools, safety equipment, and more!
We serve all of South Central Wisconsin. Whether you're in Delavan, Evansville, Brodhead, Milton, Clinton, or the surrounding area, Welders Supply is worth the visit. We're open from 7:00am to 5:00pm during the week and 9:00am to Noon on Saturday.