Hypertherm Powermax 30XP/30Air

SORT BY
Hypertherm Powermax30 XP
Powermax30 AIR w/ 15' 75° Hand Torch, Consumables (120-240V 1-PH, CSA)
Hypertherm Powermax 30 Air 120-240 V CSA with Building America decal
Hypertherm Powermax 30 XP Plasma Cutters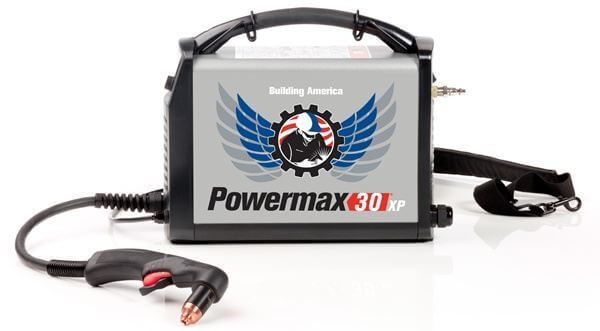 Hypertherm Powermax30 XP: Portable "two-in-one" plasma cutting system with power for cutting thick metal as well as FineCut™ consumables for detailed, thin metal cutting. The versatile 3-amp system uses air or nitrogen when cutting mild steel, stainless steel, aluminum or other electrically conductive metals. Fast cutting speeds and great cut quality gets you through jobs faster with less time spent cleaning up your cuts.
Two-in-one design combines high-power cutting up to 16mm and FineCut™ consumables for detailed work with thin metals
One knob interface for ease of use
15' torch lead with strain relief on both ends
Duramax LT Torch is built to last and has great ergonomics
AutoVoltage technology lets you plug into 120 to 240 V power
Uses only compressed air—no expensive or explosive gases
Hypertherm Powermax 30 Air Plasma Cutters
Hypertherm Powermax 30 AIR: This is the smallest, lightest handheld plasma cutter in its class, and with a built-in air compressor it can be used anywhere you have 120 or 240 v power. Perfect for the hobbyist, for work around the farm, or for the tradesman, it cuts fast and clean so you finish jobs quicker. Like all Hypertherm plasma systems, it's built to stand up to heavy-duty use even in the most demanding environments.
Internal air compressor lets you cut anywhere, without lugging around external air sources
Smallest, lightest system in its class (30lb., 5/16" cut capacity, 5/8" severance capacity)
AutoVoltage technology allows you to plug into any 1-Phase circuit with 120 to 240 V power
Moisture removal system enables great cut quality and performance even in hot, humid conditions
AIR T30 torch has great ergonomics and is built to withstand impacts and heat