Welders Supply in Big Bend, WI
Hours
Mon-Fri: 7:30am-5pm

Address
W230 S7720 Hwy. 164
Big Bend, WI 53103, USA
Big Bend Welders Supply Services: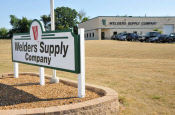 Preventative Maintenance
Machine Calibration
Vendor Managed Inventory
Gas Deliveries
Equipment Use and Safety Training and Certifications
Have a welding business? Our low prices help you cut costs without hurting the top line.
Need Storage Cabinets? Parts Bins? Gas Cylinder storage cages? Whatever it is, we have it.
Welding Tools and Safety Equipment from Welders Supply
Welder Supply in Big Bend, Wisconsin is fully stocked with welding tools and supplies. Whether you're in Waukesha County, Milwaukee County, Jefferson County, or the surrounding areas, Welder Supply in Big Bend can help you.
We carry a large selection of all the welding brands you're looking for, including:
Miller Welding
Hypertherm
Victor Technologies
Tillman
3M
Hobart
Kromer
Jackson
Arc One
Weldcote Metals
Strong Hand Tools
Metabo Tools
SAIT Abrasives
DeWalt
Norton Industrial Abrasives
And More!
Welding Supplies & Apparel in Big Bend
At Welders Supply our offerings aren't limited to welding machines and plasma cutters. We also offer a wide array of welding supplies and accessories. Consider us your one-stop-shop for all things welding. Whether you are looking for a new helmet or looking want the best-looking welding cap in the warehouse, Welders Supply has what you're looking for. To show our appreciation for your purchase, we offer free shipping on all orders over $300.
Clothing & Apparel for Big Bend Welders
When it comes to welding apparel, Welders Supply Company has you covered from head to toe - literally. We supply affordable protective clothing to welders all over the Big Bend area and Southeast Wisconsin. Our inventory is full of quality, name-brand clothing made to withstand the demands of your workplace.
Shop our online selection of welding apparel:
Over 100 Welding Helmets Available
As a welder, you know the helmet is the most important piece of equipment you have to keep you safe. Welders Supply Company has a wide selection of welding helmets to choose from, with over 100 different welding helmets available in our online store. Our selection gives you the freedom to purchase the helmet that best fits your style, safety needs and price point. With low-end to high-end welding helmets at the most competitive prices, you're sure to find a helmet to get the job done without breaking the bank. Our inventory is full of helmets with different styles including skulls, flames, or just plain black.
We carry welding helmets from the top name brands in the industry, including:
Free Shipping - All Orders over $300
We offer free shipping within the continental US on all orders over $300. Is your total coming up a little short of $300? Consider taking a look at our welding parts and accessories and stock up on what you'll need down the road.
Have a question about our awesome selection of welding supplies? Call 1-800-236-8825 to speak with one of our service reps.
Welding Machines for Big Bend Welders
Welders Supply Company is the number one supplier of welding machines in Southeast Wisconsin. We are committed to providing the best selection of welding machines at the most affordable prices on the market. With our selection of welders, you can count on finding the perfect machine for your work. We have machines designed to weld mild steel, stainless steel or aluminum in a variety of power supply options. Welders Supply offers free shipping on any order over $300.
Browse our selection of MIG, TIG and Stick machines today.
MIG Welders for sale in Big Bend
We carry a large selection of MIG welders from top welding brands known for their high performance and reliability including:
Miller MIG welders
Hobart MIG welders
Tweco MIG welders
Victor MIG welders
ESAB MIG welders
MIG welders are the most versatile of all welding machines and are engineered to weld copper, nickel, silicon bronze, aluminum, carbon steel, stainless steel and other materials.
Shop our selection of Flux Core (gasless) and gas MIG welders.
Large Selection of TIG Welders
Welders Supply has the largest inventory of high-performing TIG welders for sale at competitive prices. We have rigs with both stick and TIG capabilities, water-cooled technology and adjustable AC wave frequencies. Many of our TIG welders come with a FREE helmet and gloves to thank you for your business.
Miller TIG Welders
Thermal Arc TIG Welders
ESAB TIG Welders
Hobart TIG Welders
Tweco TIG Welders
Stick Welders for Sale in Big Bend
Stick welding, also known as shielded or manual metal arc welding, is the most common welding process. Welders Supply has your stick welding needs taken care of, with options from the top brands in the industry including Dynasty, ESAB, Miller, Tweco and Thermal Arc.
Shop our selection of Stick welders online or call 1-800-236-8825 to speak with a knowledgeable service rep.
Affordable Plasma Cutters For Sale in Big Bend
Welders Supply Company provides a large inventory of name-brand plasma cutters to customers in the Big Bend area. Whether you are looking to purchase a brand new top-of-the-line CNC plasma cutter or a more affordable, used machine for at-home use, Welders Supply has you covered. We carry plasma cutters from the following brands known for their high performance and reliability:
Hypertherm
Miller
Victor ESAB
Hobart
Plasma Cutting Parts & Accessories
In addition to an extensive inventory of plasma cutters, Welders Supply also carries plasma cutting parts and accessories at affordable prices. These accessories are essential in maintaining the condition of your machines to ensure you can continue to get work done.
Consumables
Plasma cutter consumables wear down over time and need to be replaced on a regular basis. Replacing your consumables is one of the most important parts in maintaining the efficiency of your machine and ensuring your plasma cutter performs as designed. Welders Supply has all the consumables you may need including swirl rings, electrodes, shield deflectors and nozzles.
Air Filters
Air filters help keep impurities from the air like dirt, water and oil from entering your plasma cutter. Keeping these out helps extend the service life of your cutter. This accessory is fairly cheap but goes a long way in enhancing the cut quality of your machine.
Cable Covers
Cable covers are essential in keeping out the dust and debris that always ends up finding its way into your plasma cutter. These covers also provide protection from scuffs and scrapes and many have built-in pockets for storing your torch and cables.
Cutting Guides
Our plasma cutting guides help make your life as a welder much easier. No matter how steady your hand is, a cutting guide is your best friend when it comes to precision welds. Welders Supply carries basic cutting guide kits and precision cutting guide tools.
Free Shipping on Orders over $300
Welders Supply Company offers free shipping within the continental US on all orders over $300. Coming up just short of $300? Take a look at our selection of welding clothing and apparel to take advantage of our free shipping offer.
For the largest selection of plasma cutters at the most affordable prices, shop Welders Supply online or call 1-800-236-8825 to speak with an expert service rep.
#1 Gas Supplier in Big Bend, Wisconsin
Welders Supply Company supplies Industrial, Beverage, Medical, and Specialty gasses in a variety of sizes to businesses all over Southeast Wisconsin and Northern Illinois. Our gases are offered in a variety of sizes to best fit your needs including cylinder, micro-bulk and in bulk.
Gasses for sale in Big Bend include:
Not only do we have the gas you are looking for but we also supply their distribution systems, mixing systems and telemetry tank monitoring. From supplying the gas to delivery, Welders is able to take care of every part of the gas purchasing process.
Gas Tanks Refills and Exchanges
Our team at Welders Supply is able to refill or exchange your empty gas tanks and cylinders at the lowest prices around. We are also able to ship high purity grade CO2 quickly at a low cost for personal, medical or food industry uses.
Check out Welders Supply Company's list of gasses for sale or call 1-844-682-0205 to place your order today.
Big Bend Dry Ice Supplier
Welders Supply Company provides high-volume production of dry ice for commercial and industrial use. We use the latest technology including dry ice pelletizers, block reformers, flow packaging equipment and a robotic handling station in our production process.
Our dry ice is used in many industries including:
Food Processing
Healthcare
Pharmaceutical
Biotechnology
Metalworkin
g
Manufacturing
Warehousing
Construction
Transportation
Retail
We offer same-day delivery of your dry ice to Southeastern Wisconsin and Northern Illinois. Call 1-844-682-0205 to speak with a service rep and order your dry ice today.
Hello welders,
We are monitoring the coronavirus situation and doing what we can; keeping our store sanitized, & doubling down on employee hand washing. For now, store hours are unchanged. We will keep you updated on this page.
We support the American welders who do the hard work that supports hospitals, factories, and families.
We will continue to offer online ordering & delivery on the website or process orders and deliveries over the phone. Give us a call. We'll be here.
On behalf of everyone at Welders Supply: good health to you and yours.
- Pete, president