Welders Supply Company Burlington, WI
Hours
Mon-Fri: 7:30am-5pm
Sat: 9am-12pm
Address
516 Mill Street
Burlington, WI 53105, USA
Burlington Welders Supply Services:
Preventative Maintenance
Machine Calibration
Vendor Managed Inventory
Gas Deliveries
Equipment Use and Safety Training and Certifications
Have a welding business? Need to cut costs without hurting the top line? Let us know.
Need Storage Cabinets? Parts Bins? Gas Cylinder storage cages? Let us know.
Plasma Cutting and Welding Equipment in Burlington, WI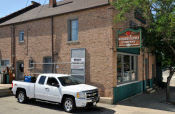 Surrounded by Racine, Kenosha, New Berlin, Mukwonago, Lake Geneva, East Troy, and Bristol, our Welders Supply store in Big Bend, Wisconsin has all the top brands and items for welders.
Located on Mill Street, we're open from 7:30am to 5:00pm during the week and 9:00am to Noon on Saturdays.