Welders Supply Company Burlington, WI
Hours
Mon-Fri: 7:30am-5pm

Address
516 Mill Street
Burlington, WI 53105, USA
Burlington Welders Supply Services: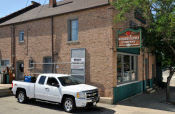 Preventative Maintenance
Machine Calibration
Vendor Managed Inventory
Gas Deliveries
Equipment Use and Safety Training and Certifications
Have a welding business? Need to cut costs without hurting the top line? Let us know, we'd love to help!
Need Storage Cabinets? Parts Bins? Gas Cylinder storage cages? Give us a call, we have it all!
Call us at 262-763-8486 or call us toll free 1-800-901-8486 for prices. We serve welders all over southeast Wisconsin. Whether you're in Racine, Kenosha, Waterford, Elkhorn, Pleasant Prairie, Waterford, or anywhere in the surrounding area, Welders Supply is ready to help you!
Plasma Cutting and Welding Equipment in Burlington, WI
Surrounded by Racine, Kenosha, New Berlin, Mukwonago, Lake Geneva, East Troy, and Bristol, our Welders Supply store in Burlington, Wisconsin has all the top brands and items for welders.
Welding Supplies in Burlington WI
Our Burlington location provides an impressive array of welding supplies, including helmets, apparel and more. When you shop at Welders Supply you can expect customer service that cares and a wide selection of quality products at affordable prices. Our Burlington location is great for welders who live in or near:
Salem
Antioch
Muskego
Franklin
Pleasant Prairie
Burlington Welding Helmets
Helmets are an important part of welding gear. The brands we carry include:
Some of our best sellers include:
Each of the items listed above comes with a complimentary t-shirt and gloves! We also offer a variety of autodarkening and passive shade helmets.
Wisconsin Welding Apparel
Our Burlington location team is ready to help you find whatever welding apparel you need, as well as assist you in any way possible. Our welding gear ensures maximum protection; allowing you to continue working without any interruptions. Browse our varied selection of apparel including:
Contact us or call 1-800-236-8825 for more information!
Burlington WI: Welding Machines
Our Burlington location offers welders for both mig and tig welding, plus more great welding machines. With an incredible selection and amazing customer service, Welders Supply is your one-stop shop for all your welding needs.
Have questions? Call 1-800-236-8825 or visit our Rockford, IL store for more information!
Types of Welding Machines we offer
The most common type of welding, MIG stands for "Metal Inert Gas" and can be used to weld almost any type of metal. Our large selection of MIG welders features both flux core (gasless) and gas MIG welders.
TIG stands for "Tungsten Inert Gas" and uses argon as a shielding gas for all applications to create high-quality welding without sparks or splatter. Browse our selection of TIG welders now.
Stick welding machines are simply designed with flux coated welding rods instead of shielding gas. Stick welding is good for outdoor projects and welding joints or alloys.
Engine driven welders have their own power supply so you don't have to rely on electricity. Good for any size job, engine driven welding machines are used as generators to power other types of welding machines. Welders Supply offers gas and diesel powered welders.
Multi-process welders are exactly what they sound like: welding machines that can perform multiple types of welding processes, even including plasma cutting for some. If you need multiple types of welding processes in one machine, check out our multi-process welders.
Shop in Burlington Shop All Welders Online
Have questions? Call 1-800-236-8825 or visit our Rockford, IL store for more information!
Plasma Cutters for WI & IL
When shopping with Welders Supply you get to choose from popular brands like Miller, Victor ESAB, Hypertherm, Hobart and more. If you need affordable, quality plasma cutters, our team of customer service-oriented professionals is here to help you find one perfect for your welding needs. Our wide plasma cutter selection includes CNC and portable plasma cutters.
Shop in Burlington Shop Plasma Cutters Online
Have questions? Call 1-800-236-8825 or visit our Rockford, IL store for more information!
Burlington WI: Gas
Our Burlington location sells and delivers a large selection of gases to customers in Burlington and Crystal Lake for free if an order is placed online. Our supply of pure and mixed gases includes:
Safety is of utmost importance to Welders Supply Company. To ensure this we offer product training for every product we sell. Including:
Compressed gas
Regulators
Torches
If you need to provide documentation proving your participation we offer certificates of completion.
Shop in Burlington Nearest Welding Gases
Contact us or call 1-800-236-8825 for more information!
Burlington WI: Commercial Dry Ice Supplier
We sell more than welding supplies. Businesses like Pfizer rely on us for dry ice needed for vaccine transportation. Dry ice is also used to maintain low transit temperatures in the blasting & cleaning, food processing and pharmaceutical industries. We offer:
Dry ice pellets
Food-grade dry ice
Solid block dry ice
Get Dry Ice in Burlington
Contact us or call 1-800-236-8825 for more information!
Hello welders,
We are monitoring the coronavirus situation and doing what we can; keeping our store sanitized, & doubling down on employee hand washing. For now, store hours are unchanged. We will keep you updated on this page.
We support the American welders who do the hard work that supports hospitals, factories, and families.
We will continue to offer online ordering & delivery on the website or process orders and deliveries over the phone. Give us a call. We'll be here.
On behalf of everyone at Welders Supply: good health to you and yours.
- Pete, president