Victor Performer Medium Duty Outfit, 100FC Torch Handle, CA 1350 Cutting Attachment, 540/300 ESS3 EDGE Regulators #0384-2126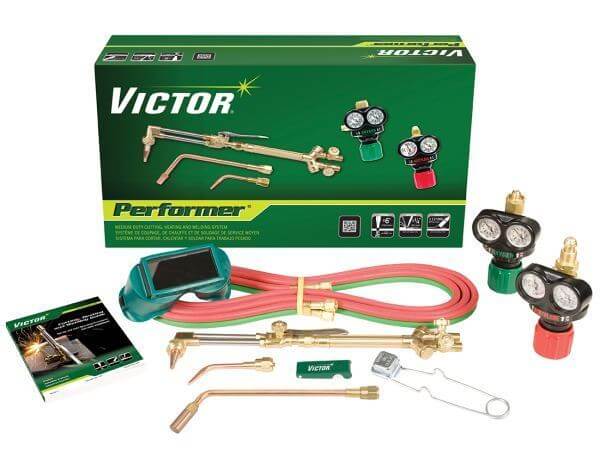 Share

Print
$299.00
$485.00
Reduced Price
You Save
$186.00
Product Number:
0384-2126
Add

$300.00

worth of items to your cart to qualify for

People who bought this product were also interested in:
Victor Performer Medium Duty Outfit #0384-2126
Innovative NEW EDGE™ Series Gas Regulators Offer Safety and Advanced Design.
Victor® has been the leader in Acetylene and gas equipment for close to a century, and its tradition of unparalleled safety remains a cornerstone of the brand today. With the Victor Professional EDGE Series Regulators, Victor continues to offer the safest, most reliable and highest quality gas control technology, giving you more value for your purchase. In addition, standardized designs and components throughout the EDGE family greatly simplify regulator service and repair.
All Victor EDGE Regulators are:
Easy to use. The EDGE Series regulators have easy to read gauges with enhanced graphics, color-coded knobs for quick gas identification, and offer more natural and safer hand/body positioning for adjusting delivery pressure.
Durable and compact. The advanced design makes them among the most compact industrial regulators available on the market. Construction materials have been carefully chosen for optimum durability, including a forged brass body, stainless steel bolts, and a regulator housing cap constructed of a zinc-aluminum alloy with nearly twice the yield strength of brass.
Included Features
ESS3 Series regulators
100FC torch handle with built-in flashback arrestors and check valves
CA 1350 cutting attachment
Cutting tip 0-3-101
Heating nozzle Type MFA-1 Size 4
Welding nozzle (W-1) 0
T-grade hose 12.5' x 3/16"" (3.8 m x 4.8 mm)
Striker and tip cleaner
Soft-sided shade 5 goggles
5-Year Warranty*
This medium duty outfit cuts up to 1/2" (12.7 mm) or 6" (152.4 mm) with optional tips. It welds up to 1/4" (6.4 mm) or 1.25" (31.8 mm) with optional nozzles.
| | |
| --- | --- |
| Process(es) | Medium Duty |
| Gas Service | Acetylene |
| Fuel Gas Regulator | ESS3-15-300 |
| Oxygen Regulator | ESS3-125-540 |
| Torch Handle | 100FC |
| Cutting Attachment | CA1350 |
| Heating Nozzle | Type MFA-1 Size 4 |
| Welding Nozzle | (W-1) 0 |
| Cutting Tips | 0-3-101 |